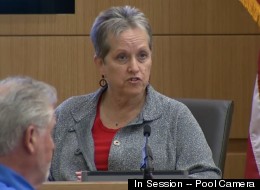 The Jodi Arias murder trial resumes Wednesday in Arizona with the prosecution's cross-examination of a domestic violence expert called in an attempt to prove Travis Alexander abused Arias in the months leading up to his brutal slaying.
Defense lawyers say Arias was physically and emotionally battered by Alexander and feared for her life when she shot him, stabbed him nearly 30 times, and cut his throat from ear to ear in his Mesa, Ariz., home on June 4, 2008.
Prosecutors say Arias killed Alexander in a jealous rage.
Psychotherapist Alyce LaViolette has spent eight days on the witness stand detailing her opinion on the dynamic of Alexander and Arias' on-again, off-again relationship.
The trial resumes Wednesday, a day after prosecutor Juan Martinez got into a heated exchange with LaViolette, prompting the defense witness to tell the veteran prosecutor he needed to "take a time out."
Martinez has repeatedly challenged LaViolette's opinion that Arias, 32, was physically and emotionally abused by Alexander, 30.
The trial is set to resume at about 12:30 p.m. Eastern time, when Martinez is expected to continue his cross-examination of LaViolette.
Read below for minute-by-minute updates from court Wednesday:
LaViolette said she does not find it unusual that Arias did not go into great detail about things in her journals, specifically fights and alleged assaults by Alexander.
"She promised him she wouldn't ... its a private place to write and people write about things they want to remember," LaViolette said.
Martinez objected to the line of questioning and the attorneys are now at another sidebar with the judge.
The Huffington Post is live blogging Wednesday's testimony. Check back here for updates.