LeBron James Self Alley-Oop Dunk: Heat Star Throws Pass Off The Backboard To Himself (VIDEO)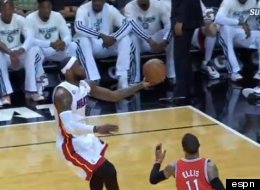 By Chris Yuscavage, Complex Sports

Dwyane Wade isn't around to throw alley-oops to LeBron James right now. But, don't worry: LBJ clearly has it covered. Take your time, D-Wade. King James will be just fine without you.
RELATED: Watch 8 Awesome Full-Court Passes Between Dwyane Wade and LeBron James
[via Eye on Basketball]