This is supposed to be a mother of the bride?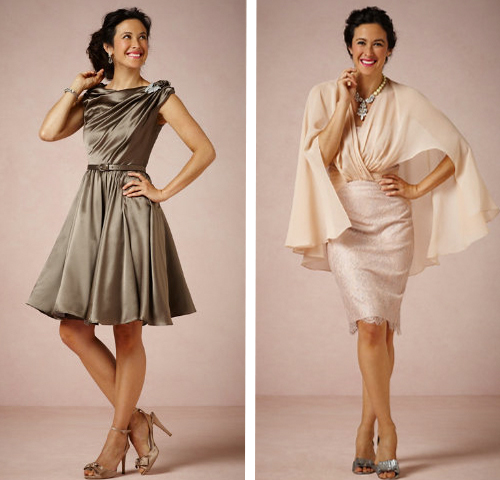 That was our first thought when a Huffington Post reader pointed out some very fetching dresses billed as appropriate for MOBs, but modeled by a woman who definitely isn't old enough to have a daughter preparing to walk down the aisle.
BHLDN (pronounced "beholden") is a bridal offshoot of Anthropologie, a popular women's clothing and lifestyle retail store. The brand, which could not be reached for comment, offers six mother of the bride dresses, all modeled by the same young woman, sending a perhaps unintentional message of who they want their customer to be (read: young) -- even when offering clothing specifically for women of a certain age.
The lack of age-appropriate models in the fashion world is well-worn territory. Even though baby boomers are the most valuable generation to marketers (spending $230 billion in consumer packaged goods), they are woefully under- and misrepresented in advertising, especially in fashion, where boomer women spend $47 billion a year, according to market research firm NPD Group.
We'll give BHLDN the benefit of the doubt and assume they just didn't think to include age-appropriate models in their casting call. Luckily for them, there's no shortage of beautiful post 50 models to work those mother of the bride dresses.
Women like American Apparel's then 60-year-old model "Jacky," who gives younger models a run for their money with her long legs, red lips and no-nonsense stare. Or Cindy Joseph, who was discovered on New York's streets in 1999 when she was 49 and has modeled for Dolce and Gabbana, J. Crew and DKNY just to name a few. And any one of the finalists over 45 from the Wilhelmina 30+ Model Search would be great choices, or the models from Masters, France's first modeling agency or baby boomers and seniors. We can't even begin to imagine how elegant 81-year-old supermodel Carmen Dell'Orefice, Bethann Hardison, or 60-year-old Beverly Johnson would look in a BHLDN dress.
No need to thank us, BHLDN -- we're glad to help. But there is a need to use age-appropriate models when the dress calls for it.