"I want Twin Peaks to be a place where, you know, my mom's comfortable here, where my neighbors can bring their kids and everybody can enjoy it."
So says Randy DeWitt, owner of the chain of "mountain sports lodge[s]" with locations in 16 states, in the promotional video above.
When you watch the video, you'll get a sense of exactly how family friendly Twin Peaks ("Eats. Drinks. Scenic Views") is. Aside from the short-shorts and cleavage, there's footage of a calendar showing a Twin Peaks girl in an, um, suggestive position, and bottled beers are served in cosies/koozies styled like this: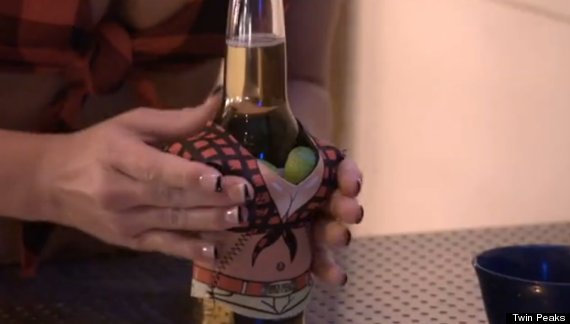 Also, if your child orders an ice cream sundae, here's how it arrives: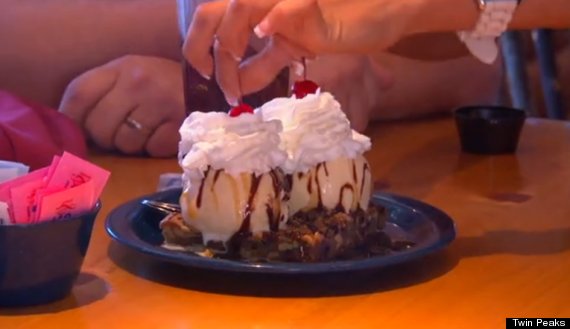 So, let's review. In the same week that the word "breastaurant" has been trademarked, we now see DeWitt say of Twin Peaks, "Some people think it's not about the mountains, but it is." Really? Last time, we checked, Iowa and Nebraska -- where two of the Twin Peaks establishments are located -- were not states known for their topography.

UPDATE: The Twin Peaks video, which had been accessible on Vimeo Wednesday morning, became password-protected Wednesday afternoon.
(H/T Jezebel)
Related on HuffPost:
Loading Slideshow
Hooters

<a href="http://www.hooters.com/home.aspx" target="_hplink">Hooters</a> opened in 1983 and has grown to more than 460 locations across 44 states. Chicken wings are the restaurant's specialty, but the menu also includes hamburgers, sandwiches, steaks and seafood entrees.

Tilted Kilt Pub & Eatery

<a href="http://www.tiltedkilt.com/" target="_hplink">The Tilted Kilt</a>, a Celtic-themed sports bar chain founded in 2003, has 65 locations across the country. Waitresses are decked out in "mini-kilts" and push-up bras, and it's tagline is, "A cold beer never looked so good."

Mugs 'N Jugs

<a href="http://store6.geomerx.com/mugsnjugs/" target="_hplink">Mugs 'N Jugs</a> has two Florida locations and serves sports bar fare like wings, burgers and sandwiches.

Twin Peaks

<a href="http://www.twinpeaksrestaurant.com/" target="_hplink">Twin Peaks</a> is a chain based in Texas, with 24 locations in 10 states. The "ultimate man cave" is attended by the Twin Peaks girls, whose serve up patrons in skimpy outfits. The menu includes dishes like pulled pork BBQ nachos, homestyle meatloaf and buffalo wings.

Cowgirls Espresso

Seattle-based <a href="http://www.cowgirlsespresso.com/" target="_hplink">Cowgirl Espresso</a> is a coffee kiosk manned by baristas in barely-there ensembles. Costumes change depending on the day's theme; there's Military Mondays, Cowgirl Tuesdays, Bikini Wednesdays, School Girl Thursdays and Fantasy Fridays.

Show-Me's

<a href="http://www.showmes.com/" target="_hplink">Show-Me's</a> 16 locations in Indiana, Illinois, Ohio, Missouri and Kentucky serves up classic sports bar dishes with the tagline, "Show-Me's, when you have an appetite for fun."

Bone Daddy's House of Smoke

<a href="http://www.bonedaddys.com/" target="_hplink">Bone Daddy's House of Smoke</a> is a BBQ joint with five Texas locations. Its website breaks down its appeal: "BBQ, BEER AND DADDY'S GIRLS."

Shorty's Bar and Grill

<a href="http://www.shortysbarandgrill.com/" target="_hplink">Shorty's Bar and Grill</a> describes itself as a family-friendly restaurant, but its waitresses -- the Shorty Girls -- always serve up fare wearing country-ified getups. Its website describes them as being of a "country girl-next door type." The place's "Big A$$" burger holds a hallowed place on the menu.

Man Cave

We first introduced you to <a href="https://www.facebook.com/pages/The-Man-Cave-Restaurants/172065822900074?sk=wall&filter=12" target="_hplink">Man Cave</a> earlier this year, a Norman, Oklahoma eatery that's <a href="http://www.huffingtonpost.com/2012/03/12/man-cave-breastaurant_n_1339043.html" target="_hplink">exactly what it sounds like</a>. Wings and pizza are menu mainstays.