Here's how to sum up Wednesday's episode of "The View": classic Whoopi.
The roundtable was discussing the results of a new poll that found more men prefer women to have a natural bikini line in the shape of a "Bermuda triangle" over full-on Brazilian waxes.
Goldberg made her position clear on Wednesday. "Here's the thing that freaks me out," she began. "If you watch the history of pornography, you will see that the women in pornography mirror women as they are being done. When you see no hair on a grown women, she looks like a little girl. I don't like that."
Her fellow co-hosts broke into crosstalk. "A grown woman with nothing there looks like what a little girl looks like and there's no way around that," Goldberg interjected.
Shepherd, however, had a different take. "I think that's a little unfair to put on men because I think some men go for the cleanliness of it," she said. "And when you shave any part of your body, you like the smoothness of it."
At this point, Goldberg furrowed her eyebrows and gave the audience a skeptical look for a good five seconds. It was easily the best part of the discussion. We gather that Goldberg was not moved by her co-host's argument.
PHOTO: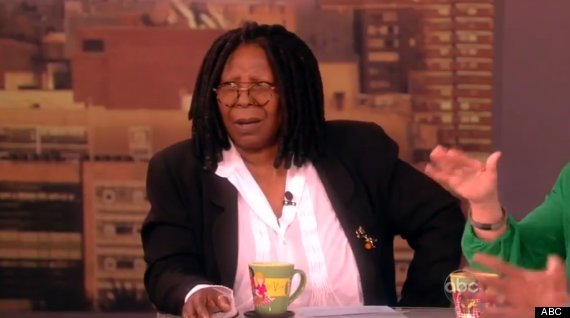 Related on HuffPost:
Loading Slideshow
"Sister Act" Broadway Opening Night - Arrivals & Curtain Call

NEW YORK, NY - APRIL 20: (L-R) TV personality Barbara Walters, actress/producer Whoopi Goldberg and TV personality Elisabeth Hasselbeck attend the Broadway opening night of 'Sister Act' at the Broadway Theatre on April 20, 2011 in New York City. (Photo by Joe Corrigan/Getty Images)

JOY BEHAR, SANDRA FLUKE, SHERRI SHEPHERD, ELISABETH HASSELBECK, BARBARA WALTERS

Georgetown University law student and activist Sandra Fluke, center, speaks as co-hosts Joy Behar, left, and Sherri Shepherd speak during an appearance on the daytime talk show, "The View," Monday, March 5, 2012 in New York. Fluke talked about conservative radio host Rush Limbaugh and the comments he made on his program after she testified to Democratic members of Congress in support of a requirement that health care companies provide coverage for contraception. Fluke told ABC's "The View" on Monday that she hasn't heard from Limbaugh since he issued a written apology late Saturday. (AP Photo/ABC, Lou Rocco)

Barack Obama, Michelle Obama, Barbara Walters, Joy Behar, Sherri Shepherd,

President Barack Obama and first lady Michelle Obama appear on the ABC Television show "The View" in New York, Monday, Sept. 24, 2012, From left are, Barbara Walters, president and first lady, Joy Behar, and Sherri Shepherd. (AP Photo/Pablo Martinez Monsivais)

ROBIN ROBERTS, SHERRI SHEPHERD, VAL CHMERKOVSKIY

In this April 11, 2012 photo released by ABC, host Robin Roberts, left, speaks with TV personality Sherri Shepherd and her dance partner Val Chmerkovskiy after they were eliminated from the celebrity dance competition series "Dancing with the Stars," during an appearance on the morning show "Good Morning America" in New York. The Nielsen Co. said Monday that ABC's "Good Morning America" beat NBC's morning show last week by a razor-thin margin of 13,000 viewers. (AP Photo/ABC, Donna Svennevik)

"Sister Act" Broadway Opening Night - Arrivals & Curtain Call

NEW YORK, NY - APRIL 20: Actress/producer Whoopi Goldberg and TV personality Elisabeth Hasselbeck, attend the Broadway opening night of 'Sister Act' at the Broadway Theatre on April 20, 2011 in New York City. (Photo by Joe Corrigan/Getty Images)

"Sister Act" Broadway Opening Night - Arrivals & Curtain Call

NEW YORK, NY - APRIL 20: TV personalities Elisabeth Hasselbeck and Barbara Walters attend the Broadway opening night of 'Sister Act' at the Broadway Theatre on April 20, 2011 in New York City. (Photo by Joe Corrigan/Getty Images)

"Sister Act" Broadway Opening Night - Arrivals & Curtain Call

NEW YORK, NY - APRIL 20: (L-R) Actress/producer Whoopi Goldberg, actor Sylvester Stallone and TV personality Barbara Walters attend the Broadway opening night of 'Sister Act' at the Broadway Theatre on April 20, 2011 in New York City. (Photo by Joe Corrigan/Getty Images)

Kelly Ripa Co-Hosts Dr. Fredric Brandt's SiriusXM Launch Event

NEW YORK, NY - SEPTEMBER 26: Television personality Joy Behar attends Dr. Fredric Brandt's SiriusXM launch event at SiriusXM Studio on September 26, 2011 in New York City. (Photo by Cindy Ord/Getty Images)

BARBARA WALTERS, STAR JONES, JOY BEHAR

In this image released by ABC, co-host Barbara Walters, left embraces former co-host Star Jones as Joy Behar, right, looks on during a broadcast of the daytime talk show "The View," Wednesday, Feb. 22, 2012, in New York. Jones made a guest appearance Wednesday after quitting the show six years ago. (AP Photo/ABC, Ida Mae Astute)

2012 Made In NY Awards

NEW YORK, NY - JUNE 04: New York City Mayor Michael Bloomberg,actress/TV personality Whoopi Goldberg, and New York City Film Commissioner Katherine Oliver attend the 2012 Made In NY Awards at Gracie Mansion on June 4, 2012 in New York City. (Photo by Stephen Lovekin/Getty Images)

Joy Behar

FILE - In this March 13, 2010 file photo, TV personality Joy Behar attends the 21st annual GLAAD Media Awards in New York. Current TV says Joy Behar will soon be joining the network to host a prime-time talk show. Behar, whose nightly program on cable channel HLN ended last December, will return with a show on Current in September, the network announced Monday. It will originate Monday through Thursday at 6 p.m. Eastern time. (AP Photo/Peter Kramer, file)

Joy Behar

FILE - This April 20, 2011 file photo shows Joy Behar arriving to the opening night performance of the Broadway musical "Sister Act" in New York. Current TV says Joy Behar will soon be joining the network to host a prime-time talk show. Behar, whose nightly program on cable channel HLN ended last December, will return with a show on Current in September, the network announced Monday. It will originate Monday through Thursday at 6 p.m. Eastern time. (AP Photo/Charles Sykes, file)

2012 Made In NY Awards

NEW YORK, NY - JUNE 04: Actress Meryl Streep and actress/TV personality Whoopi Goldberg attend the 2012 Made In NY Awards at Gracie Mansion on June 4, 2012 in New York City. (Photo by Stephen Lovekin/Getty Images)

Sherri Shepherd

Television personality Sherri Shepherd arrives before the 84th Academy Awards on Sunday, Feb. 26, 2012, in the Hollywood section of Los Angeles. (AP Photo/Amy Sancetta)

Nora Ephron Memorial Service

NEW YORK, NY - JULY 09: Actress Joy Behar attends the Nora Ephron Memorial Service on July 9, 2012 in New York City. (Photo by Ilya S. Savenok/Getty Images)

SHERRI SHEPHERD, VAL CHMERKOVSKIY

In this April 9, 2012 photo released by ABC, TV personality Sherri Shepherd and her partner Val Chmerkovskiy perform on the celebrity dance competition series "Dancing with the Stars," in Los Angeles. (AP Photo/ABC, Adam Taylor)

Sherri Shepherd

Television personality Sherri Shepherd arrives before the 84th Academy Awards on Sunday, Feb. 26, 2012, in the Hollywood section of Los Angeles. (AP Photo/Matt Sayles)

US-VOTE-2012-DEMOCRATIC CAMPAIGN

Barbara Walters listens as US President Barack Obama speaks during a break in a taping of 'The View' at ABC Studios September 24, 2012 in New York, New York. Obama is traveling for a two day trip to New York City where he will participate in a taping of 'The View' before attending the United Nations General Assembly and related events. AFP PHOTO/Brendan SMIALOWSKI (Photo credit should read BRENDAN SMIALOWSKI/AFP/GettyImages)

Through The Kitchen Benefit For Cancer Research Institute

NEW YORK, NY - MAY 20: Media personality Barbara Walters is served in the kitchen during the Through The Kitchen Benefit For Cancer Research Institute at The Four Seasons Restaurant on May 20, 2012 in New York, United States. (Photo by Jemal Countess/Getty Images)

Barbara Walters, Bill Geddie

Barbara Walters, right, presents the lifetime achievement award to Bill Geddie onstage at the 39th Annual Daytime Emmy Awards at the Beverly Hilton Hotel on Saturday, June 23, 2012 in Beverly Hills, Calif. (Photo by Chris Pizzello/Invision/AP)

SHERRI SHEPHERD, VAL CHMERKOVSKIY

In this April 2, 2012 photo, TV personality Sherri Shepherd, left, and her partner Val Chmerkovskiy perform on the celebrity dance competition series "Dancing with the Stars," in Los Angeles. (AP Photo/ABC, Adam Taylor)

"The Words" New York Screening - Arrivals

EAST HAMPTON, NY - AUGUST 25: TV personality Joy Behar attends 'The Words' screening at Goose Creek on August 25, 2012 in East Hampton, New York. (Photo by Paul Zimmerman/Getty Images)

Backstage At 54 Below

NEW YORK, NY - SEPTEMBER 17: TV personality Joy Behar speaks with comedian Carol Burnett backstage after a performance by Linda Lavin at 54 Below on September 17, 2012 in New York City. (Photo by Cindy Ord/Getty Images for 54 Below)

Backstage At 54 Below

NEW YORK, NY - SEPTEMBER 17: (L-R) Joy Behar, Harold 'Hal' Prince, Linda Lavin and Carol Burnett pose backstage after a performance by Linda Lavin at 54 Below on September 17, 2012 in New York City. (Photo by Cindy Ord/Getty Images for 54 Below)

Actress Whoopi Goldberg arrives at the 2

Actress Whoopi Goldberg arrives at the 20th Annual Elton John AIDS Foundation Academy Awards Viewing Party at the City of West Hollywood Park on February 26, 2012 in West Hollywood, California. AFP PHOTO/PATRICK T. FALLON (Photo credit should read Patrick T. Fallon/AFP/Getty Images)

20th Annual Elton John AIDS Foundation's Oscar Viewing Party - Arrivals

LOS ANGELES, CA - FEBRUARY 26: Actress Whoopi Goldberg arrives at the 20th Annual Elton John AIDS Foundation's Oscar Viewing Party held at West Hollywood Park on February 26, 2012 in West Hollywood, California. (Photo by Frederick M. Brown/Getty Images)

2012 MoMA Party In The Garden Benefit - Arrivals

NEW YORK, NY - MAY 22: Barbara Walters attends the 2012 Party in the Garden benefit at the Museum of Modern Art on May 22, 2012 in New York City. (Photo by Theo Wargo/Getty Images)

10th Annual TV Land Awards - Show

NEW YORK, NY - APRIL 14: Actress Whoopi Goldberg speaks onstage at the 10th Annual TV Land Awards at the Lexington Avenue Armory on April 14, 2012 in New York City. (Photo by Andrew H. Walker/Getty Images)

10th Annual TV Land Awards - Show

NEW YORK, NY - APRIL 14: Actress Whoopi Goldberg speaks onstage at the 10th Annual TV Land Awards at the Lexington Avenue Armory on April 14, 2012 in New York City. (Photo by Andrew H. Walker/Getty Images)

2012 Made In NY Awards

NEW YORK, NY - JUNE 04: Comedian Joan Rivers, New York City Mayor Michael Bloomberg, and actress/TV personality Whoopi Goldberg attend the 2012 Made In NY Awards at Gracie Mansion on June 4, 2012 in New York City. (Photo by Stephen Lovekin/Getty Images)

2012 Made In NY Awards

NEW YORK, NY - JUNE 04: Actress Whoopi Goldberg attends the 2012 Made In NY Awards at Gracie Mansion on June 4, 2012 in New York City. (Photo by Stephen Lovekin/Getty Images)

2012 Made In NY Awards

NEW YORK, NY - JUNE 04: New York City Mayor Michael Bloomberg and actress Whoopi Goldberg attend the 2012 Made In NY Awards at Gracie Mansion on June 4, 2012 in New York City. (Photo by Stephen Lovekin/Getty Images)

Jon Patricof, Whoopi Goldberg

IMAGE DISTRIBUTED FOR ADVERTISING WEEK - President and COO of Tribeca Enterprises Jon Patricof, left, and actress Whoopi Goldberg participate in the "Future of Film" seminar at Advertising Week on Monday, Oct. 1, 2012, in New York. (Photo by Charles Sykes/Invision for Advertising Week/AP Images)

Whoopi Goldberg

IMAGE DISTRIBUTED FOR ADVERTISING WEEK - Actress Whoopi Goldberg speaks at the "Future of Film" seminar at Advertising Week on Monday, Oct. 1, 2012, in New York. (Photo by Charles Sykes/Invision for Advertising Week/AP Images)

Katie Couric, Barbara Walters

FILE - In this Jan. 12, 2012 file photo, Barbara Walters attends the "Today" show 60th anniversary celebration at the Edison Ballroom in New York. Walters is apologizing for trying to help a former aide to Syrian President Bashar Al-Assad land a job or get into college in the United States. Sheherazad Jaafari is the daughter of the Syrian ambassador to the United States and a one-time press aide to Assad. Jaafari played a role in Walters' landing an interview with the Syrian president in December.(AP Photo/Evan Agostini)

Bill Geddie, Barbara Walters

Bill Geddie, left, and Barbara Walters pose backstage with Geddie's lifetime achievement award at the 39th Annual Daytime Emmy Awards at the Beverly Hilton Hotel on Saturday, June 23, 2012 in Beverly Hills, Calif. (Photo by Todd Williamson/Invision/AP)

Nora Ephron Memorial Service

NEW YORK, NY - JULY 09: Barbara Walters attends the Nora Ephron Memorial Service on July 9, 2012 in New York City. (Photo by Ilya S. Savenok/Getty Images)

Nora Ephron Memorial Service

NEW YORK, NY - JULY 09: Barbara Walters attends the Nora Ephron Memorial Service on July 9, 2012 in New York City. (Photo by Rob Kim/Getty Images)

New York City Ballet Celebrates Legendary Fashion Designer Valentino Garavani

This Sept. 20, 2012 photo released by Starpix shows Barbara Walters at the New York City Ballet Fall Gala honoring Valentino Garavani at Lincoln Center in New York. Valentino, who created most of the vibrant costumes and dramatically upped the glamour quotient of the evening, attracting movie stars, supermodels and socialites galore. (AP Photo/Starpix, Amanda Schwab)

US-VOTE-2012-DEMOCRATIC CAMPAIGN

(L-R) Whoopi Goldberg, Barbara Walters US President Barack Obama, and US first lady Michelle Obama sit during a break in a taping of 'The View' at ABC Studios September 24, 2012 in New York, New York. Obama is traveling for a two day trip to New York City where he will participate in a taping of 'The View' before attending the United Nations General Assembly and related events. AFP PHOTO/Brendan SMIALOWSKI (Photo credit should read BRENDAN SMIALOWSKI/AFP/GettyImages)

Barack Obama, Michelle Obama, Whoopi Goldberg, Barbara Walters, Joy Behar, Sherri Shepherd, Elisabeth Hasselbeck

President Barack Obama and first lady Michelle Obama appear on the ABC Television show "The View" in New York, Monday, Sept. 24, 2012, From left are, Whoopi Goldberg, Barbara Walters, the president, the first lady, Joy Behar, Sherri Shepherd and Elisabeth Hasselbeck. (AP Photo/Pablo Martinez Monsivais)