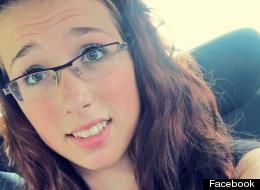 Public furor over the suicide of Rehtaeh Parsons, a Canadian teen who says she was raped by four boys in 2011 and then relentlessly cyberbullied, escalated this week as news spread of the young woman's death.
On Wednesday, Internet activist group Anonymous released a statement claiming it knows the identities of the accused rapists and will release that information unless the Royal Canadian Mounted Police (RCMP) takes "immediate legal action against the individuals in question."
In a statement titled "Operation Justice For Rehtaeh," Anonymous wrote that it had confirmed the identities of two of the four boys accused and was working on a third. The statement also said it is only a matter of time before they find the fourth.
"We do not approve of vigilante justice as the media claims," the statement, which addresses the Nova Scotia RCMP, read. "That would mean we approve of violent actions against these rapists at the hands of an unruly mob. What we want is justice. And [t]hat's your job. So do it."
The RCMP conducted a yearlong investigation after the Parsons family reported the rape, but no charges were filed. In an interview with Canada's CBC program "Maritime Noon," Rehtaeh's mother, Leah Parsons, suggested that prosecutors decided not to pursue the case because the accused may have been able to use ignorance as a defense.
In a new interview with CBC, however, Leah Parsons spoke out against potential vigilantism: "I want the justice system to go after those boys ... I don't want people to go after those boys. ... I don't want more bullying. Rehtaeh wouldn't want more bullying. I don't think that's justice."

(Story continues below)
Rehtaeh Parsons: A Life In Photos
Florida 2004 (from Facebook)

From Facebook: Thank You Richard for sending me this photo...I did not have this class picture of me in grade six but as soon as I saw it I recalled the year and the principal in the back Mr Gallagher. I was starting to become more girlish looking and developing into a young lady (far left front) and a group of boys that were friends since 1st grade noticed the changes and suddenly were grabbing me inappropriately when I was walking the hallways. I told Mr Gallagher, he pulled each boy into his office and I never knew what he said but those boys never touched me or said another word about it. Mr Gallagher, where ever you are I thank you and I never forgot how you stood up for me.

Today on Father's Day remembering the love of a father and daughter. (Glen and Rehtaeh)

These are photos of Halifax teenager Rehtaeh Parsons, who was the victim of an alleged gang rape and an online bullying campaign over the last few months. Her mother, Leah Parsons, posted the images and her daughter's tragic story on a Facebook memorial page.

Online reaction to Parsons death has been swift. Hundreds of messages have flooded the memorial page set up by her mother. Many more have sounded off on Twitter.
Four boys allegedly raped Rehtaeh Parsons at a small gathering in November 2011 after consuming alcohol. One of the accused took a photo of another boy having sex with Parsons, then circulated the picture among friends. Rehtaeh's family claims the photo ruined their daughter's reputation and led to cyberbullying.
"She was never left alone. She had to leave the community. Her friends turned against her. People harassed her. Boys she didn't know started texting her and Facebooking her asking her to have sex with them. It just never stopped," Leah Parsons told the CBC.
According to Canada's Global News, Nova Scotia Justice Minister Ross Landry initially said Tuesday that he would not reopen the case, then changed his stance and said options for review would be considered.
In a blog for The Huffington Post, Rehtaeh's father, Glen Canning, blamed his daughter's school and the police for her death.
"How is it possible for someone to leave a digital trail like that yet the RCMP don't have evidence of a crime? What were they looking for if photos and bragging weren't enough?" Canning wrote. "My daughter wasn't bullied to death, she was disappointed to death. Disappointed in people she thought she could trust, her school, and the police."
Anonymous warned that other wings of the group "may not wish to wait at all" in revealing the identities of the accused, and urged swift action. In 2012, Anonymous followed a trail of login names and email accounts to track down an accused cyberbully who allegedly terrorized British Columbia teen Amanda Todd.
Todd committed suicide in October 2012 after being blackmailed for nude photos and bullied online and at school for more than a year.
WATCH: Leah Parsons Speaks Out About Rehtaeh's Death