On the heels of Miami's 27-game win streak, Dwyane Wade, fresh off his ninth All-Star game and shooting the highest percentage of his career, stopped to break it all down for The Huffington Post and look ahead to the upcoming NBA playoffs. With two rings at 31 years old, Wade feels like the Heat have turned the corner on being the team everybody loves to hate.
You've sustained head and ankle injuries recently. How do you feel right now?
I'm getting better. The great thing about this time of the year is that we did our job. We took care of business ... I'm getting better every day.
What is the single-most challenging thing for the Heat right now?
Staying healthy ... You see out in Denver with [Danilo] Gallinari going down, this time of the year it really hurts them, even though they're a good team -- the second-leading scorer -- you don't want that to happen. This is a tough time of the year for certain teams. You want to play well but you also want to make sure you don't go into the playoffs gimpy.
How about the streak? Are you aware of just how special it was and have you moved on at this point?
Yeah, we moved on, but it was great, I can't lie to you and say it wasn't cool. The one thing about the NBA is you've got to keep going, you've got a game every other day. You don't have time to sit back and really understand what you're going through. I think for us, we were just coming in and doing what we normally do, and that's getting prepared ... It just so happened that the wins started to pile up and it became a great story around sports, in general. And I think that was the coolest thing, that it was all-around sports. A lot of people said that they were rooting for us to try and go after the 33 wins in a row. We were just enjoying it and having fun, but just playing basketball like we normally do. That was the great thing about it.
President Pat Riley is quite the resource. Do guys turn to him any more?
Every now and again. He left us alone during the 27-game win streak. We were kind of rolling ... Coach Riley sometimes is a voice for certain guys who reach out to him. We're going for our second championship in a row, hopefully our third Finals in three years. There are not many guys or coaches who have done that, so to be able to have him -- someone who has repeated -- is a great luxury to have.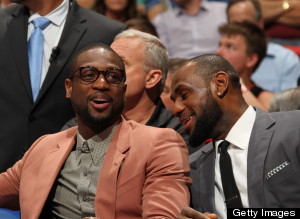 Of teammate LeBron James, Wade tells HuffPost: "He's just being who he's always been." (Getty Images)
What have you seen from Erik Spoelstra? Because right now, he's probably considered one of the best coaches in the game.
I think it's like anything in life: When you're young, you have the passion, you have the want. Obviously you need experience. He's been getting that. He's continued to learn how to be a head coach, especially with this team. He's one of the great young coaches in this league. I always say I'm excited to one day look back in 10 or 15 years from now, when he's still coaching, to see the coach that he's become. You never know where he might be in the ranks of the great coaches. Kind of like Riley when he was young, having these great teams at a young age, getting some championships under his belt, and being able to do other things.
You've been with LeBron for nearly three seasons now. Is there any one thing he's done to reach the level he's currently at?
Nothing really, just playing basketball. When it comes to him, I think a lot people look into a lot of things a little too much. I think the one year -- emotionally, when he can talk about it, 2010 -- but outside of that, he's just played the game of basketball like only he can. That's why he's been MVP, and probably again this year. He has an amazing talent, and he stays injury free. He's just being who he's always been.
It was just three years ago that the Heat were the marquee villain of the NBA. It seems like that has changed, particularly when you guys are on the road. Is that a fair assumption to make?
Oh man, it's a huge difference. It's cool. We took our hit, you know, from everyone in 2010. I thought we handled it as well as we could. I think the fans continue to watch us and the way that we play. And everyone started turning a little bit. So yeah, it's been cool, man, to go on the road. It's like a mini-home game at times: Have the fans cheering for you, some fans cheering, "Let's go, Heat," in different arenas. It's been a fun thing. I just say that we're playing the game the right way. I think people are starting to see that.
Email me at jordan.schultz@huffingtonpost.com or ask me questions about anything sports-related at @Schultz_Report.