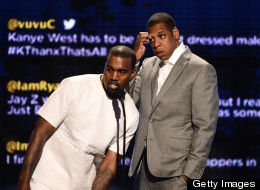 When Jay-Z isn't rapping about making "millions" off "f-cking dweeb[s]" by bringing the New Jersey Nets to Brooklyn, he's likely appearing at your local movie theater. Over the last seven years, Jay and frequent collaborator Kanye West have, together and alone, been used as musical accompaniment for a surfeit of movie trailers.
The most recent example of this hip-hop phenomenon is with the film "42." The Jackie Robinson biography -- which takes place in the late 1940s -- used the Jay-Z track "Brooklyn (Go Hard)," a brash song that references Robinson by name, in its marketing campaign. Unfortunately for fans of the trailer, "Brooklyn (Go Hard)" is nowhere to be found in "42," as the Brian Helgeland film eschews anachronistic music cues in favor of a warm, triumphant score.
That won't be the case with Baz Luhrmann's upcoming adaptation of "The Great Gatsby": Jay-Z produced the film's soundtrack, and his music -- as well as that of his wife, Beyonce -- will be used in the finished product, this despite the 1920s time setting. (Anachronistic might be Luhrmann's unofficial middle name; see also: "Romeo + Juliet" and "Moulin Rouge!")
To celebrate these films -- and the new trailer for "The Hangover Part III," which also features a West song -- HuffPost Entertainment has put together look at the Jay-Z and/or Kanye West songs that have appeared in movie trailers, a list that's proof positive everything looks better with help from Roc Nation.
"Numb/Encore" ("Miami Vice")

"Heart Of The City" ("American Gangster")

"Reminder" ("The Hangover Part II")

"99 Problems" ("This Means War")

"99 Problems" ("Taking Of Pelham 1 2 3")

"99 Problems" ("Tower Heist")

"Power" ("The Social Network")

"Power" ("Broken City")

"Power" ("Limitless")

"Empire State of Mind" ("Sex and the City 2")

"Don't Let Me Die" ("G.I. Joe: Retaliation")

"Run This Town" ("The Fighter")

"Beware" ("The Dictator")

"No Church in the Wild" ("Safe House")

"No Church In the Wild" ("The Great Gatsby")

"Oh My God" ("Gangster Squad")

"Brooklyn Go Hard" ("42")

"Runaway" ("The Hangover Part III")