'Don Jon' Release Date Set For Oct. 18, But No Awards Push Planned For Joseph Gordon-Levitt Movie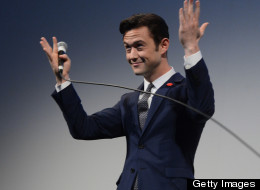 Relativity Media acquired "Don Jon," Joseph Gordon-Levitt's directorial debut, after its premiere at the Sundance Film Festival for a reported $4 million plus another $25 million in marketing guarantees. The deal promised a wide theatrical release.
"I always intended this to be a movie for a mass popular audience," Gordon-Levitt told Variety in January when the deal was announced. "Everyone told me it was a long shot. Now Relativity is making it happen."
Many thought Gordon-Levitt's film, about a porn-addicted New Jersey gym rat and the women he loves, would arrive in theaters later this summer. "When I was making it, I was thinking that the same guys who loved 'Pineapple Express' or '40 Year-Old Virgin' will really like this movie," Gordon-Levitt told Deadline.com, citing two popular August comedy releases. As it turns out, however, "Don Jon" will now hit theaters on Oct. 18: Relativity announced the release earlier this week, putting Gordon-Levitt's film in the early stages of awards season.
"The last thing we are thinking is an award push," producer Ram Bergman told Indiewire's Anne Thompson via email, throwing cold water on the notion of "Don Jon" For Your Consideration ads. "We just want to make sure that we get the film in front of the right audience."
About that audience: Despite the fact that three other wide releases arrive on Oct. 18 (Lee Daniels' "The Butler," the remake of "Carrie" and the YA adaptation "The Seventh Son"), Gordon-Levitt's "Don Jon" is the only youth-skewing comedy on the schedule for almost two months. The next one, "Anchorman: The Legend Continues" doesn't arrive until Dec. 20.
For more from Gordon-Levitt on "Don Jon," check out this HuffPost Entertainment interview with the talented star.
[via Indiewire/ToH]
Joseph Gordon-Levitt arrives at a screening of "Don Jon's Addiction at the SXSW Film Festival, on Monday, March 11, 2013 in Austin, Texas. (Photo by Jack Plunkett/Invision/AP Images)

Tony Danza arrives at a screening of "Don Jon's Addiction at the SXSW Film Festival, on Monday, March 11, 2013 in Austin, Texas. (Photo by Jack Plunkett/Invision/AP Images)

Joseph Gordon-Levitt arrives at a screening of "Don Jon's Addiction at the SXSW Film Festival, on Monday, March 11, 2013 in Austin, Texas. (Photo by Jack Plunkett/Invision/AP Images)

Brie Larson arrives at a screening of "Don Jon's Addiction at the SXSW Film Festival, on Monday, March 11, 2013 in Austin, Texas. (Photo by Jack Plunkett/Invision/AP Images)

In this photo taken Sunday, March 10, 2013, Willie Nelson walks the red carpet at the Paramount for the opening of "When Angels Sing" during the SXSW Film Festival in Austin, Texas. (AP Photo/American-Statesman, Deborah Cannon)

In this photo taken Sunday, March 10, 2013, Harry Connick Jr. is interviewed on the red carpet at the Paramount for the opening of "When Angels Sing" during the SXSW Film Festival in Austin, Texas. (AP Photo/American-Statesman, Deborah Cannon)

Former NBA basketball great Shaquille O'Neal talks with Brian Solis at the South By Southwest Interactive Festival on Monday, March 11, 2013 in Austin, Texas. (AP Photo/Statesman.com, Deborah Cannon)

This March 10, 2013 image released by Raptor House shows Solange Knowles performing at the Nokia Music and Verizon Wireless present Solange at Roc Nation / Raptor House late night at Arlyn Studios in Austin, Texas. (AP Photo/Raptor House, Spencer Selvidge)

Rachel Korine arrives at the U.S. premiere of "Spring Breakers" at the SXSW Film Festival, on Sunday, March 10, 2013, in Austin, Texas. (Photo by Jack Plunkett/Invision/AP Images)

Rachel Korine arrives at the U.S. premiere of "Spring Breakers" at the SXSW Film Festival, on Sunday, March 10, 2013, in Austin, Texas. (Photo by Jack Plunkett/Invision/AP Images)

Harmony Korine arrives at the U.S. premiere of "Spring Breakers" at the SXSW Film Festival, on Sunday, March 10, 2013, in Austin, Texas. (Photo by Jack Plunkett/Invision/AP Images)

Ashley Benson arrives at the U.S. premiere of "Spring Breakers" at the SXSW Film Festival, on Sunday, March 10, 2013, in Austin, Texas. (Photo by Jack Plunkett/Invision/AP Images)

James Franco arrives at the U.S. premiere of "Spring Breakers" at the SXSW Film Festival, on Sunday, March 10, 2013, in Austin, Texas. (Photo by Jack Plunkett/Invision/AP Images)

Selena Gomez arrives at the U.S. premiere of "Spring Breakers" at the SXSW Film Festival, on Sunday, March 10, 2013, in Austin, Texas. (Photo by Jack Plunkett/Invision/AP Images)

Selena Gomez arrives at the U.S. premiere of "Spring Breakers" at the SXSW Film Festival, on Sunday, March 10, 2013, in Austin, Texas. (Photo by Jack Plunkett/Invision/AP Images)

Selena Gomez, right, and Rachel Korine arrive at the U.S. premiere of "Spring Breakers" at the SXSW Film Festival, on Sunday, March 10, 2013 in Austin, Texas. (Photo by Jack Plunkett/Invision/AP Images)

AUSTIN, TX - MARCH 11: (L-R) Rebecca Feferman of SXSW, director Joseph Gordon-Levitt, producer Ram Bergman, actress Brie Larson and actor Tony Danza speak after the film 'Don Jon's Addiction' during the 2013 SXSW Music, Film + Interactive Festival at the Paramount Theatre on March 11, 2013 in Austin, Texas. (Photo by Michael Buckner/Getty Images for SXSW)

AUSTIN, TX - MARCH 11: Director Joseph Gordon-Levitt speaks to introduce the film 'Don Jon's Addiction' during the 2013 SXSW Music, Film + Interactive Festival at the Paramount Theatre on March 11, 2013 in Austin, Texas. (Photo by Michael Buckner/Getty Images for SXSW)

AUSTIN, TX - MARCH 11: Director Joseph Gordon-Levitt speaks to introduce the film 'Don Jon's Addiction' during the 2013 SXSW Music, Film + Interactive Festival at the Paramount Theatre on March 11, 2013 in Austin, Texas. (Photo by Michael Buckner/Getty Images for SXSW)

AUSTIN, TX - MARCH 11: Director Joseph Gordon-Levitt (L) and actress Brie Larson attend the Green Room Photo Op for 'Don Jon's Addiction' during the 2013 SXSW Music, Film + Interactive Festival at the Paramount Theatre on March 11, 2013 in Austin, Texas. (Photo by Michael Buckner/Getty Images for SXSW)

AUSTIN, TX - MARCH 11: Actress Brie Larson arrives to the screening of 'Don Jon's Addiction' during the 2013 SXSW Music, Film + Interactive Festival at the Paramount Theatre on March 11, 2013 in Austin, Texas. (Photo by Michael Buckner/Getty Images for SXSW)

AUSTIN, TX - MARCH 11: Director Joseph Gordon-Levitt \arrives to the screening of 'Don Jon's Addiction' during the 2013 SXSW Music, Film + Interactive Festival at the Paramount Theatre on March 11, 2013 in Austin, Texas. (Photo by Michael Buckner/Getty Images for SXSW)

AUSTIN, TX - MARCH 11: Actor Tony Danza arrives to the screening of 'Don Jon's Addiction' during the 2013 SXSW Music, Film + Interactive Festival at the Paramount Theatre on March 11, 2013 in Austin, Texas. (Photo by Michael Buckner/Getty Images for SXSW)

AUSTIN, TX - MARCH 11: Actors Nikki Reed and Thomas Dekker attend the 'Snap' cast dinner hosted by The Samsung Galaxy Experience at SXSW 2013 on March 11, 2013 in Austin, Texas. (Photo by John Sciulli/Getty Images for Samsung)

AUSTIN, TX - MARCH 11: Actress Nikki Reed attends the 'Snap' cast dinner hosted by The Samsung Galaxy Experience at SXSW 2013 on March 11, 2013 in Austin, Texas. (Photo by John Sciulli/Getty Images for Samsung)

AUSTIN, TX - MARCH 11: Actor Thomas Dekker attends the 'Snap' cast dinner with Nikki Reed hosted by The Samsung Galaxy Experience at SXSW 2013 on March 11, 2013 in Austin, Texas. (Photo by John Sciulli/Getty Images for Samsung)

AUSTIN, TX - MARCH 11: Actress Brie Larson (L) and actor Tony Danza attend the Green Room Photo Op for 'Don Jon's Addiction' during the 2013 SXSW Music, Film + Interactive Festival at the Paramount Theatre on March 11, 2013 in Austin, Texas. (Photo by Michael Buckner/Getty Images for SXSW)

AUSTIN, TX - MARCH 11: Actor Tony Danza, actress Brie Larson and director Joseph Gordon-Levitt attend the Green Room Photo Op for 'Don Jon's Addiction' during the 2013 SXSW Music, Film + Interactive Festival at the Paramount Theatre on March 11, 2013 in Austin, Texas. (Photo by Michael Buckner/Getty Images for SXSW)

AUSTIN, TX - MARCH 10: (L-R) Actress Selena Gomez, actress Rachel Korine, director Harmony Korine and actress Ashley Benson attend the green room for 'Spring Breakers' during the 2013 SXSW Music, Film + Interactive Festival' at the Paramount Theatre on March 10, 2013 in Austin, Texas. (Photo by Michael Buckner/Getty Images)

AUSTIN, TX - MARCH 10: Ian Somerhalder poses at the Warner Brothers TV 2013 SXSW party on March 10, 2013 in Austin, Texas. (Photo by Tim Mosenfelder/Getty Images)

AUSTIN, TX - MARCH 10: Ian Somerhalder poses at the Warner Brothers TV 2013 SXSW party on March 10, 2013 in Austin, Texas. (Photo by Tim Mosenfelder/Getty Images)

AUSTIN, TX - MARCH 10: Actress Selena Gomez arrives at the premiere of 'Spring Breakers' during the 2013 SXSW Music, Film + Interactive Festival at Paramount Theatre on March 10, 2013 in Austin, Texas. (Photo by Michael Buckner/Getty Images for SXSW)

AUSTIN, TX - MARCH 10: (L-R) Actress Selena Gomez, actress Rachel Korine, director Harmony Korine, actress Ashley Benson and actor James Franco attend the green room for 'Spring Breakers' during the 2013 SXSW Music, Film + Interactive Festival' at the Paramount Theatre on March 10, 2013 in Austin, Texas. (Photo by Michael Buckner/Getty Images)

AUSTIN, TX - MARCH 10: Napster Founder Shawn Fanning (L) and director Alex Winter attend the World Premiere of 'Downloaded' during the 2013 SXSW Music, Film + Interactive Festival at Paramount Theatre on March 10, 2013 in Austin, Texas. (Photo by Michael Buckner/Getty Images for SXSW)

AUSTIN, TX - MARCH 10: Director Alex Winter attends the World Premiere of 'Downloaded' during the 2013 SXSW Music, Film + Interactive Festival at Paramount Theatre on March 10, 2013 in Austin, Texas. (Photo by Michael Buckner/Getty Images for SXSW)

AUSTIN, TX - MARCH 10: Actress Selena Gomez arrives at the premiere of 'Spring Breakers' during the 2013 SXSW Music, Film + Interactive Festival at Paramount Theatre on March 10, 2013 in Austin, Texas. (Photo by Michael Buckner/Getty Images for SXSW)