It's almost time for "The Originals" and now, there's a poster to boot.
ET got the exclusive first look at "The Vampire Diaries" spinoff cast -- Klaus (Joseph Morgan), Rebekah (Claire Holt), Elijah (Daniel Gilles) and newcomer Marcel (Charles Michael Davis) -- in this new image for the backdoor pilot, airing as the April 25th episode of its CW parent program.
"The Originals" takes the remaining living members of the Mikaelsons, the first vampire family, to New Orleans. The spinoff's cast also includes "The Vampire Diaries's" Hayley (Phoebe Tonkin) and new characters: a revolutionary witch named Sophie (Daniella Pineda), an overprotected witch named Davina (Danielle Campbell) and the show's only human leading lady Camille (Leah Pipes).
Some of the new and old "Originals" cast members already have a connection. "I used to play poker with [Charles Michael Davis] when I lived in Los Angeles," Morgan told The Huffington Post. "He texted me when he was auditioning and then he texted me again when he was testing for it so I was thrilled when he got the role because our characters, Klaus and Marcel, have a history. It's wonderful to know that it's going to be him. He's such a smart guy and he's got a killer role ... pun intended," he said with a laugh.
Here's how The CW officially describes "The Originals." Check out the full "Originals" poster below.
Acting on a mysterious tip that a plot is brewing against him in New Orleans, Klaus makes a trip to the town he and his family helped build. Klaus' questions lead him to a reunion with his former protégé, Marcel, a charismatic vampire who has total control over the human and supernatural inhabitants of New Orleans. Determined to help his brother find redemption, Elijah follows Klaus and soon learns that Hayley has also come to the French Quarter searching for clues to her family history, and has fallen into the hands of a powerful witch named Sophie. Meanwhile, in Mystic Falls, Damon and Stefan continue with their plan for Elena, while Katherine (Nina Dobrev) reveals a surprising vulnerability to Rebekah and asks her to deliver a message. Chris Grismer directed the episode written by Julie Plec.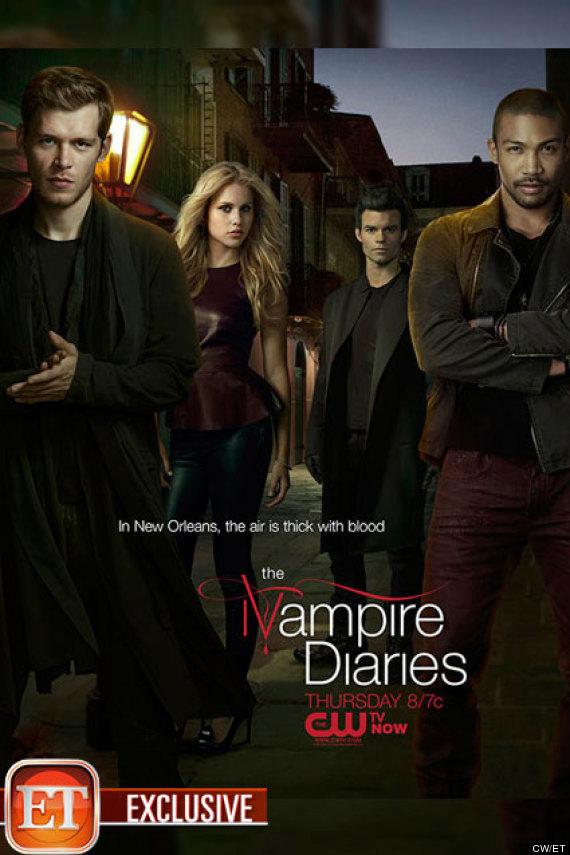 Click back over to ET for more.
Tune in for "The Originals" on Thursday, April 25 at 8 p.m. ET on The CW.
"The Vampire Diaries" Spinoff: "The Originals"