Macaulay Culkin Sings Beach Boys' 'Kokomo' With Adam Green (VIDEO)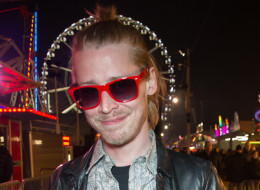 Former child star Macaulay Culkin surprised concertgoers at an Adam Green show in Bristol, England earlier this week, when he joined the singer in a duet cover of the Beach Boys' 1988 hit "Kokomo."
In video footage of the duet that was uploaded to YouTube on April 11, the 32-year-old "Home Alone" star is seen taking the stage while wearing sunglasses and a small ponytail, and it appeared as though he had a pretty good time singing along.
Culkin and the former Moldy Peaches frontman are good friends, and it's not the first time they've worked together either. Zap2It notes that Culkin appeared in Green's experimental iPhone movie "The Wrong Ferrari," and the pair also performed a cover of Scorpion's "Wind of Change," at the Berlin Festival in 2010.
After hitting it big with the "Home Alone" franchise in the '90s, Culkin took a nine year break from show business and returned to Hollywood playing murderous club kid Michael Alig in 2003's "Party Monster." The actor has taken few roles in the last 10 years, but formed an art collective called Three Men and a Baby, or 3MB, with Green and Toby Goodshank last year.
The actor also made headlines in 2012 after the National Enquirer claimed he had a heroin addiction that would likely kill him -- a claim his rep called "ridiculously fictitious."