We're very excited to syndicate one of our favorite columns, 'What Is It? What Is It Worth?' from one of our favorite magazines, Country Living. All text and images below are provided by Country Living. Get ready to be surprised!
"I found this wall chart at an estate sale for $2. What can you tell me about the gadget it depicts?" - L.T., Chicago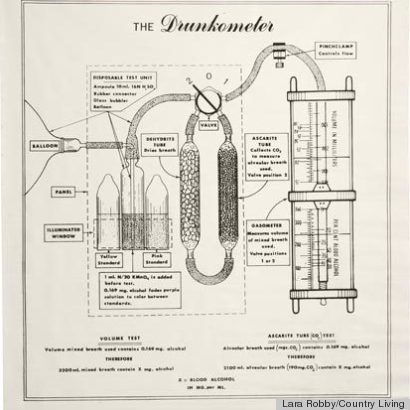 1940s Drunkometer Diagram
Professional appraiser Helaine Fendelman identifies and evaluates your collectibles and antiques.
WHAT IS IT?
It may seem like something out of Animal House, but the Drunkometer is no joke. The precursor to today's Breathalyzer, this tool—the first portable apparatus to accurately measure blood-alcohol content—was developed by Indiana biochemist Dr. Rolla N. Harger in 1931. Indiana state troopers put the device to use on New Year's Eve 1938: Suspects inflated a balloon, and the captured air was released into the contraption, where it mixed with a chemical solution. The officer then plugged a measurement from the machine into a math equation to determine the level of intoxication—a complicated system to explain in court, so prosecutors used charts like this to talk juries through the process. Things got simpler in 1954 with the introduction of the Breathalyzer (it produces a direct readout, no calculations required). This diagram's value really depends on the buyer and his or her preference for detailed graphics versus more colorful designs. But collectors drawn to midcentury science-related charts would surely toast this fun secondhand score.
What's It Worth: $300
Also check out on CountryLiving.com:
Click through our slideshow to see other fabulous vintage finds from Country Living.
What Is It? What Is It Worth?
Together, the words vintage and Mickey Mouse sound like a recipe for a fortune. But is it? Learn how Country Living appraised it.

This unusual relic is certainly worth a great deal more than we expected.

We didn't even know eggs were scaled back in the day. But if you happen to have one of these lying around your attic, you ought to consider selling it. They're worth a pretty penny.

Find out how much Country Living appraised it for.

When's the last time you saw one of these?

We couldn't believe how much Country Living appraised this for.

This retro-chic coat is worth a lot more than you'd expect.

You'll neve believe how much this vintage toy bus is worth.

This Victorian chair is worth a pretty penny.

Check out how much this well crafted, mid-19th century storage chest is worth.

Ever wondered how much antique call boxes are worth nowadays?

Here's an assessment in case you were planning on picking one of these Match-Matic cameras up on your next trip to the vintage shops.

Love the duo? Find out how much their vintage records are going for.
Have something to say? Check out HuffPost Home on Twitter, Facebook, Pinterest, Tumblr and Instagram.
**
Do you have a home story idea or tip? Email us at homesubmissions@huffingtonpost.com. (PR pitches sent to this address will be ignored.)