Sen. Pat Toomey (R-Pa.) broke from his prepared remarks on the Senate floor Monday, interrupting a speech on gun control legislation to inform his colleagues about a pair of bombs that exploded near the finish line of the Boston Marathon, killing at least two and injuring dozens more.
"It appears that tragedy has struck the Boston Marathon," he said. "And bombs have gone off and there are injuries we know of, causalities the severity of which we do not yet know."
(Watch the video above.)
As the Associated Press reports, both the House and Senate later marked the tragedy:
With moments of silence in both houses of Congress, lawmakers are marking the deadly explosions that occurred at the site of the Boston Marathon.

Majority Leader Harry Reid led the Senate in a brief pause, and officials said Speaker John Boehner intended to do the same when the House convened later Monday.

In brief remarks on the Senate floor, Reid expressed sympathy for victims of the explosions, and praised the first responders who rushed to their aid.

Massachusetts Sen. Mo Cowan said he and other members of the Senate are expecting briefings from officials in Boston.
For more political reactions, click through the slideshow below. For up-to-the-minute news, scroll down for HuffPost's liveblog:
Loading Slideshow
Gov. Deval Patrick (D-Mass.)

"This is a horrific day in Boston. My thoughts and prayers are with those who have been injured. I have been in touch with the President, Mayor Menino and our public safety leaders. Our focus is on making sure that the area around Copley Square is safe and secured. I am asking everyone to stay away from Copley Square and let the first responders do their jobs."

President Barack Obama

<blockquote>The American people will say a prayer for Boston tonight. And Michelle and I send our deepest thoughts and prayers to the families of the victims in the wake of this senseless loss. ... We still do not know who did this or why. And people shouldn't jump to conclusions before we have all the facts. But make no mistake -- we will get to the bottom of this. And we will find out who did this; we'll find out why they did this. Any responsible individuals, any responsible groups will feel the full weight of justice. Today is a holiday in Massachusetts -- Patriots' Day. It's a day that celebrates the free and fiercely independent spirit that this great American city of Boston has reflected from the earliest days of our nation. And it's a day that draws the world to Boston's streets in a spirit of friendly competition. Boston is a tough and resilient town. So are its people. I'm supremely confident that Bostonians will pull together, take care of each other, and move forward as one proud city. And as they do, the American people will be with them every single step of the way.</blockquote>

Vice President Joe Biden

VP Biden: "Our prayers are with those people in Boston who have suffered injuries. I don't know how many there are."

Sen. William "Mo" Cowan (D-Mass.)

Sen. Elizabeth Warren (D-Mass.)

Former Mass. Gov. Mitt Romney (R)

Former Sen. Scott Brown (R-Mass.)

House Majority Leader Eric Cantor (R-Va.)

Rep. John Tierney (D-Mass.)

Rep. Joe Kennedy III (D-Mass.)

Rep. Niki Tsongas (D-Mass.)

Rep. Ed Markey (D-Mass.)

Rep. Debbie Wasserman Schultz (D-Fla.)

Senator John McCain (R-Ariz.)

New Jersey Gov. Chris Christie (R)

Oklahoma Gov. Mary Fallin (R)

Gov. Maggie Hassan (D)

Rep. Chris Murphy (D-Conn.)

Speaker John Boehner

Senate Minority Leader Mitch McConnell (R-Ky.)

Sen. Chris Coons (D-Del.)

Sen. Jeff Flake (R-Ariz.)

Sen. Mike Crapo (R-Idaho)

Sen. Tim Scott (R-S.C.)

Sen. Kelly Ayotte (R-N.H.)

Sen. Ted Cruz (R-Texas)

Sen. John Cornyn (R-Texas)

Sen. Dean Heller (R-Nev.)

Sen. Mike Lee (R-Utah)

Sen. Tom Carper (D-Del.)

Sen. Saxby Chambliss (R-Ga.)

Sen. Jeanne Shaheen (D-N.H.)

Sen. Roy Blunt (R-Mo.)

Sen. Dan Coats (R-Ind.)

Sen. Pat Toomey (R-Pa.)

Sen. Angus King (I-Maine)

Sen. Debbie Stabenow (D-Mich.)

Sen. Mazie Hirono (D-Hawaii)

Sen. Pat Roberts (R-Kan.)

Sen. Johnny Isakson (R-Ga.)

Sen. Mark Begich (D-Alaska)

Sen. Heidi Heitkamp (D-N.D.)

Sen. Chuck Schumer (D-N.Y.)

Sen. Richard Blumenthal (D-Conn.)

Sen. Jerry Moran (R-Kan.)

Sen. David Vitter (R-La.)

Sen. Ben Cardin (D-Md.)

Sen. Brian Schatz (D-Hawaii)

Sen. Susan Collins (R-Maine)

Sen. Joe Donnelly (D-Ind.)

Sen. Deb Fischer (R-Neb.)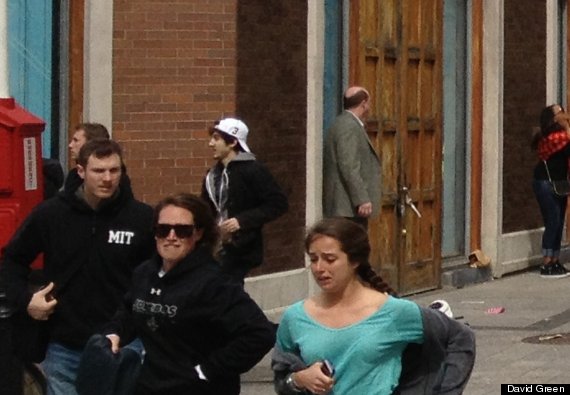 Just hours after the FBI released the first photos of suspects in the Boston Marathon bombing, a new photo of Suspect 2 may have emerged.
David Green, 49, of Jacksonville, Fla., had just completed his first Boston Marathon, when he snapped a picture with his iPhone 4S, taken at 2:50, just after the two blasts ripped through the finish line area, killing three people and injuring more than 180 others.
The FBI has not publicly confirmed this photo as Suspect 2, but Green told the Huffington Post that an agent told him, "this is probably the best we have right now."
The man who appears to be Suspect 2 is wearing a white hat with a "3" on the side as seen in the publicly-released photos.
Read more here.