Ben Revere Writes 'Pray For Boston' On Glove Before Phillies-Reds Game (PHOTO, VIDEO)
Before he took the field on Monday night at Great America Ballpark in Cincinnati, Ohio, Philadelphia Phillies outfielder Ben Revere wrote "Pray For Boston" on a piece of tape and applied it to his glove.
"I think everyone was thinking about it," Revere said of the deadly explosions near the finish line of the Boston Marathon, via the Associated Press. "It hurts to see something like that happen."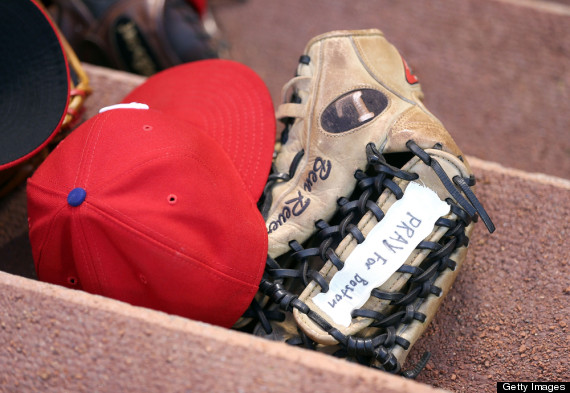 In the second inning against the Reds, Revere used that glove to make what what might be the catch of the year (so far). The 24-year-old made an incredible diving grab to rob Todd Frazier of an extra-base hit and an RBI. Later in the game, he made another great catch in the third inning, leaping into the wall to rob Ryan Hanigan of an extra-base hit.
Before the Reds' 4-2 win, the ballpark and sporting events around the nation observed moments of silence to honor the victims in Boston.
Sports Teams Hold Moments Of Silence
New York Knicks players and children bow their heads in a moment of silence for the victims of the explosions at the Boston Marathon before an NBA basketball game against the Charlotte Bobcats in Charlotte, N.C., Monday, April 15, 2013. (AP Photo/Chuck Burton)

Phoenix Coyotes' Antoine Vermette (50), Chris Conner (14), Mikkel Boedker (89), of Denmark, Keith Yandle (3), and Derek Morris (53) stand along with the crowd for a moment of silence for the victims of the bombing at the Boston Marathon prior to an NHL hockey game between the San Jose Sharks and the Coyotes, on Monday, April 15, 2013 in Glendale, Ariz. (AP Photo/Ross D. Franklin)

Former Los Angeles Lakers center Kareem Abdul-Jabbar, left, and actor Harrison Ford observe a moment of silence for the victims of the bombing in Boston prior to the Los Angeles Dodgers' baseball game against the San Diego Padres, Monday, April 15, 2013, in Los Angeles. (AP Photo/Mark J. Terrill)

Members of the Houston Astros including Chris Carter, center, observe a moment of silence for the victims involved in an explosion at the Boston Marathon prior to the baseball game against the Oakland Athletics on Monday, April 15, 2013, in Oakland, Calif. (AP Photo/Ben Margot)

Cincinnati Reds players all wearing 42 to honor Jackie Robinson bow their heads in a moment of silence prior to a baseball game against the Philadelphia Phillies, Monday, April 15, 2013, in Cincinnati, for those killed and injured from the explosions in Boston. (AP Photo/Al Behrman)

Baseball players and fans stand during a moment of silence for the victims of explosions at the Boston Marathon, before the start of a baseball game between the Miami Marlins and the Washington Nationals, Monday, April 15, 2013 in Miami. The players were wearing Jackie Robinson's No. 42. (AP Photo/Wilfredo Lee)

Members of the San Antonio Spurs observe a moment of silence for victims of the Boston Marathon explosions before an NBA basketball game against the Golden State Warriors in Oakland, Calif., Monday, April 15, 2013. (AP Photo/Marcio Jose Sanchez)r

Houston Rockets players observe a moment of silence for the victims of the Boston Marathon explosions before an NBA basketball game against the Phoenix Suns, Monday, April 15, 2013 in Phoenix. (AP Photo/Matt York)

Denver Nuggets' Corey Brewer takes part in a moment of silence for the victims of the explosions at the Boston Marathon before their NBA basketball game against the Milwaukee Bucks, Monday, April 15, 2013, in Milwaukee. (AP Photo/Jeffrey Phelps)

Minnesota Timberwolves' Luke Ridnour bows his head during a moment of silence for the victims of the explosions at the Boston marathon prior to an NBA basketball game against the Utah Jazz in Monday, April 15, 2013 in Minneapolis. (AP Photo/Jim Mone)

Cody Hoeckelberg and Stephanie Mack stand for a moment of silence for the victims of explosions at the Boston Marathon before an NHL hockey game between the Columbus Blue Jackets and the Colorado Avalanche on Monday, April 15, 2013 in Denver. (AP Photo/Barry Gutierrez)

Phoenix Coyotes' Keith Yandle, who is from Boston, skates on the ice with "Pray For Boston" on the inside his left skate as a tribute to those victims of the bombing at the Boston Marathon in the third period during an NHL hockey game against the San Jose Sharks, on Monday, April 15, 2013 in Glendale, Ariz. The Sharks defeated the Coyotes 4-0. (AP Photo/Ross D. Franklin)

From right, Orlando Magic's Tobias Harris, Andrew Nicholson, Al Harrington, Nikola Vucevic, Kyle O'Quinn and Maurice Harkless observe a moment of silence for the victims of the Boston Marathon explosions before an NBA basketball game against the Chicago Bulls, Monday, April 15, 2013, in Orlando, Fla. (AP Photo/John Raoux)

A Phoenix Coyotes fan holds up a sign as a tribute to the victims of the bombing at the Boston Marathon in the second period during an NHL hockey game, on Monday, April 15, 2013 in Glendale, Ariz. The Sharks defeated the Coyotes 4-0. (AP Photo/Ross D. Franklin)

A Los Angeles police officer is silhouetted as he looks on before a baseball game between the Los Angeles Angels and the San Diego Padres in Los Angeles, Monday, April 15, 2013. (AP Photo/Jae C. Hong)