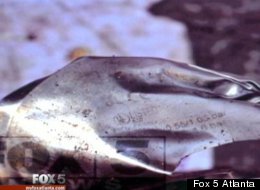 An Atlanta news station reports that it has obtained the first close-up images of one of the two bombs that went off at Monday's Boston Marathon, killing three and wounding more than 180.
Crime scene photos posted online by Fox 5 Atlanta show the now-mangled pressure cooker that served as a homemade explosive device, the station reports.
CLICK HERE for live updates:
While pressure cooker bombs are more commonly utilized in Afghanistan, Pakistan, India and Nepal; they have been seen before in domestic terror attacks, including the 2010 attempted bombing in Times Square.
Doctors treating victims of the Marathon bombing note that some of the injured had nails and BB pellets lodged in their bodies. Authorities believe that these items may have been placed in the pressure cooker bombs alongside the explosives.
"One of the sickest things for me was just to see nails sticking out of a little girl's body," Dr. David Mooney told the Associated Press.
According to Fox 5 Atlanta, the FBI did not comment on the photos.
GRAPHIC PHOTOS | Bag Or Bomb? | Remembering 1st Victim, Martin Richard | 2nd Victim, Krystle Campbell | 3rd Victim, Lu Lingzi | Stories Of The Dead And Injured | Both Legs Amputated | 'We Are Saddened And Shattered' | Witness Accounts | How To Help | History Of U.S. Bombings | Bombing Timeline | Prayers For Boston | Media Coverage