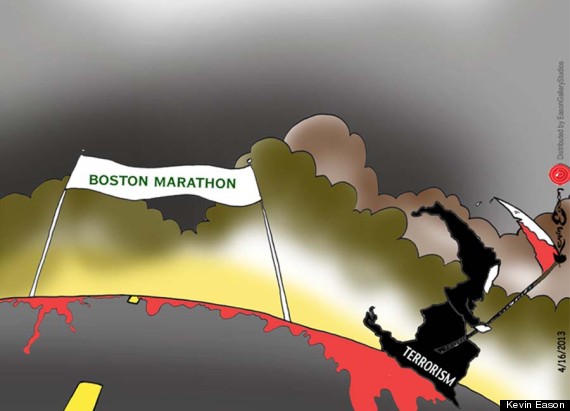 The nation is still reeling from yesterday's Boston Marathon bombings , and after months what seems like senseless acts of violence, many are left wondering what the motivation for the attack was.
The FBI has taken over a "potential terrorist investigation" in hopes to attempt to answer the questions both Boston residents and spectators around the country have posed.
Cartoonist Kevin Eason illustrated the cowardice of terrorism, showing a grim reaper running away from the scene of devastation. According to The New York Times, the explosions left at least three people dead and 140 injured, and with no suspect in custody, whomever is responsible remains unfound.
However, yesterday President Obama expressed a commitment to tracking down the culprit.
"We still do not know who did this, or why," he said. "But make no mistake, we will get to the bottom of this. We'll find out who did this, we'll find out why they did this."
About the artist:

Kevin Eason is a freelance editorial cartoonist and illustrator from New Jersey. His brand of satire covers news events in politics, entertainment, sports and much more. Kevin's work features include: Gannet, TVOne, Uptown, The Urban Daily, NAACP, Cengage Publishing, Bossip, WBLS_107.5FM, and various newspapers and magazines throughout the country. Follow him on Facebook.
PHOTO GALLERY
BEFORE YOU GO
The Political Satire Comedy Of Kevin Eason
PHOTO GALLERY
The Political Satire Comedy Of Kevin Eason