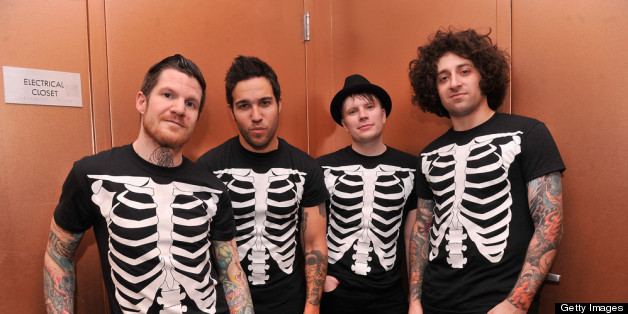 These days, our knowledge of celebrities too often originates with paparazzi images and snarky quotes by anonymous "insiders." After a while, it's easy to forget that stars are real people. That's why HuffPost Celebrity decided to launch its all-new #nofilter quick-fire question and answer series. Because how well do you know someone until they've shared their guiltiest pleasures?
After a three-year hiatus, Fall Out Boy is back with its fifth studio album, the tongue-in-cheek titled "Save Rock and Roll," which debuted at the No. 1 spot on iTunes on Monday.
Minutes before taking the stage at the iHeartRadio Theater in Tribeca, Fall Out Boy's frontman Patrick Stump, and bassist-lyricist Pete Wentz sat down with HuffPost Celebrity to quickly answer a few of our burning questions for HuffPost's #nofilter series.
What's your biggest irrational fear?
Patrick Stump : Heights. Probably heights.
Pete Wentz : I'm scared I'm going to get paper cuts from everything that I pick up.
If you were on death row, what would your last meal be?
Patrick: [Without any hesitation at all] Ramen.
Pete: Birthday cake or something weird. Wait, birthday cake with a file in it. I'm busting out.
How did you get on death row in the first place?

Patrick: Because I'm too big a wuss to ever speak up, I guess. That's a real fear that I have. That I'm going to get in trouble for something that I didn't do, but I'm not going to be able to explain myself in the right way and it's just going to be a comedy of errors where I end up on death row for something that I didn't do! I really didn't do it, it's just somehow through glaring accidents of verbiage, I end up accidentally getting myself killed.
Pete: I think that conversation just killed me.
What is the strangest thing you've ever received from a fan?
Pete: I think probably bloody razor blades.
Patrick: It wasn't what it was, it was where it was. I got a little package of letters to my house, but not addressed to my house. Someone had dropped it off and that felt really insane. It was a fan from another country that had just left something at my house.
Do you text in movie theaters?
Patrick: Never! That's, like, the rudest thing!
Pete: (Gives a guilty look) Si ...