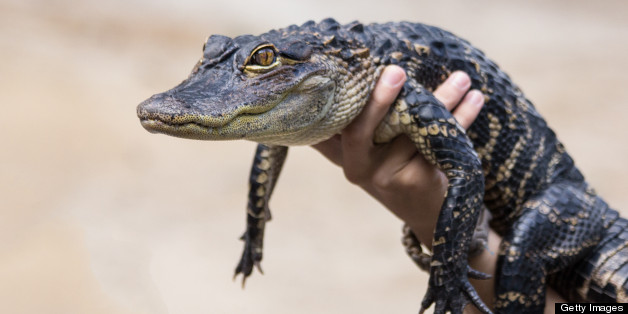 Lest anyone need the reminder, it is not OK to sell live baby alligators in Illinois.
Juan DeJesus could have used the refresher: Monday evening, the 19-year-old Chicago man from the Galewood neighborhood was arrested after allegedly trying to sell a baby alligator on Craigslist for $300, United Press International reports.
DeJesus' Craigslist ad (which has since been scrubbed from the site) read: "Baby gator for sale, id consider a trade for a leachie gecko. Sale price is 300 obo asap," the Tribune reports. A police officer with the Illinois Department of Natural Resources responded to the listing under the pretense of being an interested baby alligator buyer.
Conservation Officer Tim Buhnerkempe told DNAinfo Chicago the department "basically just conducted an undercover operation to go down and purchase it from that individual." After DeJesus tried to sell the alligator to officers, they arrested him and charged him with a Class A misdemeanor.
It's unclear where DeJesus obtained the alligator, but Buhnerkempe told DNAinfo selling an alligator is against state and federal law, adding, "It's not really safe for someone to be housing a large alligator. Ten years down the road, it's not going to be six to eight inches long. It's going to be several feet."
Earlier this month, Illinois Conservation Police officers seized a nearly three-and-a-half foot alligator from a home in Bloomington.
DeJesus' violation is punishable by a maximum of one year in jail and/or a fine of up to $2,500; he's scheduled to appear in court at the Daley Center on May 31.