Restaurant Michael Schwartz Opens At The Raleigh Hotel April 22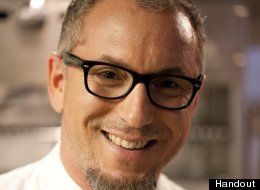 One of the most gorgeous hotels in South Beach paired with Miami's most beloved chef? Color us thrilled that finally, Michael Schwartz's newest restaurant will open April 22 at the venerable Raleigh Hotel.
The James Beard Award-winning chef, already presiding over Design District haunts Michael's Genuine, Harry's Pizzaria, and The Cypress Room, will officially open Restaurant Michael Schwartz next Monday in the poolside space of the Raleigh's former restaurant, The Royal.
If no one is sad to see the uneven Royal bite the dust, they'll be equally excited to learn Schwartz's new joint will continue serving both lunch and dinner daily, while also providing poolside and bar service, boxed beach lunches, and room service. Lunch starts at noon, but box lunches will be available as early as 11 a.m.
What's on the menu? Schwartz's signature focus on locally sourced fresh ingredients, for starters, in dishes including Crispy Hominy with chili and lime; Harvey Cedar's Fish Stew (a recipe from one of Schwartz's own books); Grilled Octopus with crushed hazelnuts, green olives, kumquat, preserved lemon and parsley; and Steak Tartare with fresh herbs, crispy shallots, quail egg yolk and grilled bread.
The new restaurant is just one of the changes underway at the Raleigh under new owners David Edelstein and Sam Nazarian. Schwartz will also be updating the cocktail menu at the property's legendary cozy Martini Bar, and soon renovations of guest rooms and common areas will be underway.
We're holding our breath over the last part, but the developers promise results will be "reminiscent" of the hotel's iconic Art Deco glory.