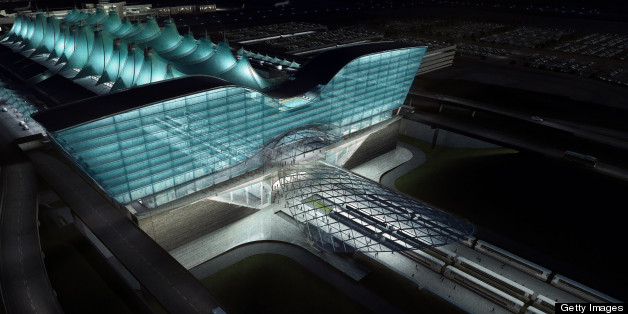 Getty Images
The 2013 World Airport Awards recently released its list of the top 100 airports in the world, and the results may leave U.S. travelers feeling a little airsick.
Only four of America's international airports cracked the list's top 50. Of those four, the top score went to Cincinnati's Northern Kentucky International, at number 30. Denver International, meanwhile, came in at number 36. Other American notables were San Francisco (No. 40), and Atlanta/Hartsfield (No. 48).
Vancouver's International Airport took the title of the Best Airport in North America in 2013. Globally, the airport ranked No. 8.
Forbes notes the airports at the top of the list are predominantly East Asian destinations, including the world's best airport for 2013: Singapore Changi Airport, which has now taken the title four times in the last 14 years.
According to CNN, Changi Airport seeks to set itself apart with "abundant entertainment services," including free tours of the city for any layovers longer than 5 hours. Weary travelers at the international hub may also enjoy the airport's butterfly garden, nature trails and on-site swimming pool.
The results of the World Airport Awards are determined by a global "audit," conducted by the Skytrax consulting firm.
Also on HuffPost:
World's Best Airports 2013
YOU MAY LIKE
CONVERSATIONS
FOLLOW HUFFPOST