The photos below are before-and-after shots of a bag near a mailbox at the Boston Marathon finish line.
It's unclear whether the bag in the pictures is relevant to the investigation into the twin bombings on Monday. But WHDH found them suspicious enough to submit the photos to the FBI, which is poring over photographic and video evidence submitted by witnesses.
BEFORE: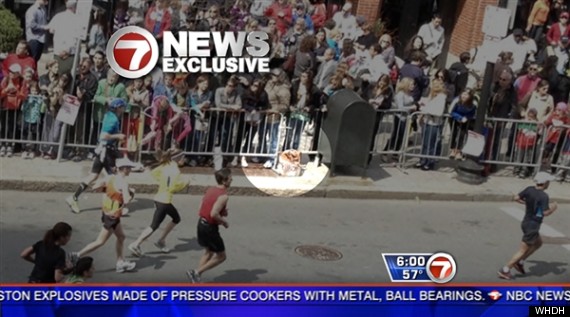 AFTER: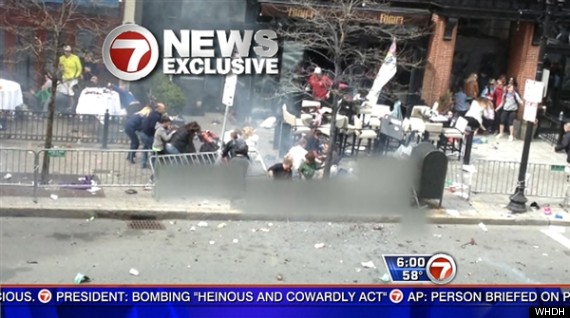 CLICK HERE for live updates:
The first photo shows a bag sitting on the street side of a barricade on the marathon route. The second, which the station blurred due to graphic content, appears to show no bag in the aftermath of one of the explosions. The station reports that a viewer submitted them, noting that they were taken an hour apart.
Authorities haven't given any specific comment on the photos, but have said they are looking over every piece of photographic evidence that's handed over to them. Jim Cavanaugh, a former special agent for the U.S. Bureau of Alcohol, Tobacco, Firearms and Explosives, told NBC News that investigators know what to look for.
"They're able to recognize the minute pieces of an article that a civilian wouldn't even know ... but to a bomb investigator, like ATF or FBI, will say, 'That's from a clock; that's from a battery,'" he said.
Meanwhile, photos of one of two exploded bombs have surfaced, showing a mangled pressure cooker that acted as a homemade explosive device.
GRAPHIC PHOTOS | Bomb Photos | Remembering 1st Victim, Martin Richard | 2nd Victim, Krystle Campbell | 3rd Victim, Lu Lingzi | Stories Of The Dead And Injured | Both Legs Amputated | 'We Are Saddened And Shattered' | Witness Accounts | How To Help | History Of U.S. Bombings | Bombing Timeline | Prayers For Boston | Media Coverage