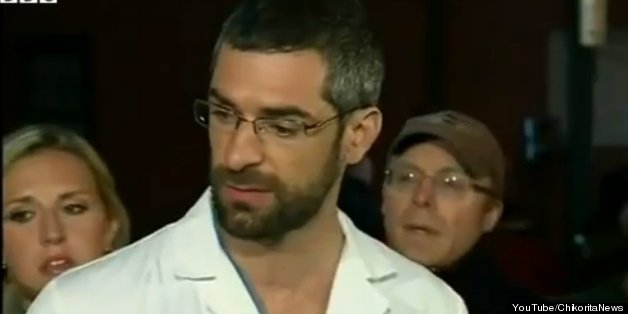 YouTube/ChikoritaNews
"This is work," he told reporters earlier this week, explaining how he was coping with the stress, as well as the volume of critically injured patients. "When this happens, we just go to work."
Over the last few days, netizens have taken to Twitter to praise Fagenholz.
Dr. Peter J. Fagenholz, you sir are a hero, as well. He has operated since 8 AM, stayed to treat Boston Marathon victims. Still going.
Thank you to Dr. Peter Fagenholz who performed SIX operations today on #BostonMarathon victims in less than 7 hours. #lastword @thelastword

— April(@ReignOfApril) April 16, 2013
Dr. Peter Fagenholz - MGH Trauma Surgeon... 6 surgeries, composed press conference, and back to the E.R.
Class act. Real life hero.
#bostonmarathon thank you dr. fagenholz- the doctors unsung heros saved so many lives....on the front lines of this battlefield.

— lisaed (@LisaedLisa) April 16, 2013
Dr. Peter Fagenholz - amazing person.
Fagenholz isn't the only medical professional lauded for his courageous efforts Monday.
According to ABC News, off-duty trauma surgeon David King, who participated in the marathon and was resting when the explosions occurred, immediately rushed to Massachusetts General to help conduct surgeries on blast victims. Dubbed a "hero doctor," King compared the injuries he saw Monday to those he saw in war zones in Iraq and Afghanistan.
Dr. George Velmahos, chief of trauma service at Massachusetts General, said survivors of the blast escaped further harm because of the efficient and indomitable efforts of doctors like King and Fagenholz, as well as the first responders, medics and Good Samaritans who helped the victims immediately after the blast.
"Because of the rapid response ... life was able to be saved," said Velmahos, according to ABC.
Here's Dr. Peter Fagenholz talking to reporters earlier this week:
FOLLOW HUFFPOST