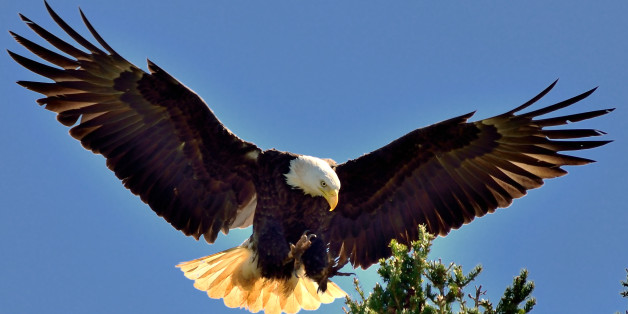 In case you needed a new way to gawk at awesome baby animals while you're at work: A family of bald eagles -- two babies and their parents -- living in the nation's capital are being livestreamed by National Geographic.
The birds are living in five-foot-wide nest 80 feet up in a tree on the grounds of D.C.'s Metropolitan Police Academy. According to National Geographic, training the webcam on their nest was D.C. Police Chief Cathy L. Lanier's idea:
She has long been interested in the eagle pair that chose the academy grounds for its home. "It is fitting and exciting that our national bird has made a home on the Metropolitan Police Department's Academy grounds," said Lanier. "We look forward to viewing the eagles in their habitat."
Craig Koppie, raptor biologist at the Fish & Wildlife Service's Chesapeake Bay field office in Annapolis, Md. and advisor to this project, told NatGeo he thinks this is the same pair of eagles that has been nesting in the area for several years.
This family lives on fish -- catfish, shad or perch, says NatGeo -- caught by the parent-eagles in the Anacostia River. (Jonathan Alderfer, a NatGeo bird expert tweeting about the eagles, says it's unclear how or if pollution from the river will harm the birds.)
The eagle webcam was set up as part of a local project called "Wired Washington," which was created in an effort by multiple conservation groups and the D.C. police to highlight wildlife in the city. Another D.C. bald eagle nest will be set up with a webcam later this spring.
Those planning to keep tabs on the birds should look out for the first flights from the chicks in the coming weeks. According to the Washington Post, the first flight for a baby eagle comes when the chick is around 11 weeks old. NatGeo says the babies won't develop their signature white heads for another four or five years.
But between then and now, there is still much time to stare at your computer, sigh and squeal with excitement every time one of the chicks props its adorable (and not-yet-white) head up.
And for the romantics among us: know that bald eagles mate for life. U.S. Fish and Wildlife estimates there are nearly 10,000 nesting pairs of bald eagles in the lower 48 states, up from just 487 nesting pairs in 1963.
Check out the bald eagle webcam here. (There's a highlights video available, too.)