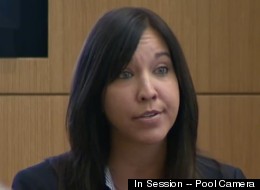 A clinical psychologist who conducted an evaluation of accused murderer Jodi Arias will once again take the stand Wednesday as she faces off with defense attorney Jennifer Willmott.
On Tuesday, the prosecution finished its direct examination of Dr. Janeen DeMarte, the first expert witness called by the state during the rebuttal phase of the trial.
DeMarte testified she diagnosed Arias with borderline personality disorder. She also testified she found no evidence to believe Arias' claims about her memory problems or that she was a victim of domestic violence and suffers from post-traumatic stress disorder.
"There wasn't symptoms that were consistent with that diagnosis," she said of the PTSD.
Throughout Arias' first-degree murder trial the defense has claimed Arias was physically and emotionally battered by her ex-boyfriend, Travis Alexander, and feared for her life when she killed him.
The prosecution contends Arias, 32, premeditated Alexander's slaying. The defense contends Arias, emotionally and physically battered and afraid for her life, acted in self-defense and did not plan to shoot Alexander in the head, stab him almost 30 times and cut his throat from ear to ear in his Mesa, Ariz., home in 2008.
For the prosecution, proving Arias' intent is key to sustaining the first-degree murder charge. Arias, jealous of Alexander's interest in other women, attacked him in the bathroom of his home after the couple spent the afternoon having sex, according to the prosecution.
During cross-examination by defense attorney Jennifer Willmott, DeMarte stood her ground. She did not flinch when the attorney suggested she was too young or lacked experience. At one point Willmott asked DeMarte about her knowledge of Alyce LaViolette, the defense teams domestic violence expert.
Willmott pointed out that DeMarte had not been born when LaViolette got her Masters degree in 1980.
The trial is set to resume at about 12:30 p.m. Eastern time, when Willmott is expected to continue her cross-examination of DeMarte.
Read below for minute-by-minute updates from court Wednesday:
Willmott is questioning DeMarte about why she gave Arias a reading test, when she had already read Arias' journals. Willmott said it should have been apparent from the journals that Arias can read and write.
"I wasn't concerned. I was engaging in good practice of ensuring she could do it," DeMarte said.
The Huffington Post is live blogging Wednesday's testimony. Check back here for updates.