Obama On Jay-Z Cuba Trip: 'We've Got Better Things To Do'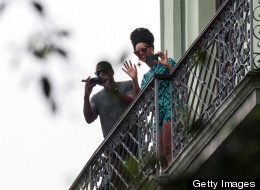 In an interview taped before the Boston Marathon bombing on April 15, Barack Obama told NBC reporter Savanah Guthrie that he had no prior knowledge of the trip Jay-Z and Beyonce took to Cuba earlier this month.
"I wasn't familiar that they were taking the trip," Obama told Guthrie. "You know, this is not something the White House was involved with. We've got better things to do."
Jay-Z and Beyonce were heavily criticized for taking the trip from all corners, including "21 Jump Street" director Phil Lord, who wrote a scathing open letter to Jay-Z for Huffington Post after the rapper released "Open Letter." The track mocked those who spoke out against the Cuba trip: "Politicians never did sh-t for me / Except lie to me, distort history," Jay raps. "Wanna give me jail time and a fine / Fine, let me commit a real crime."
Later in the tune, Jay-Z even referenced the president by name: "Obama said, 'Chill, you gonna get me impeached,'" Jay says. "But you don't need this sh-t anyway / Chill with me on the beach."
Despite the claim, the official White House line has been that President Obama was unaware of the vacation. "I guess nothing rhymes with Treasury, because Treasury offers and gives licenses for travel and the White House had nothing to do it," Press Secretary Jay Carney said after "Open Letter" was released.
For more on Obama, head over to the "Today" show website.
[via Vulture]
Beyonce and Jay-Z In Cuba
U.S. singer Beyonce, center, and her husband Jay-Z, right, walk down the stairs at La Guarida restaurant in Havana, Cuba, Wednesday, April 3, 2013. R&B's power couple is in Havana on their fifth wedding anniversary. (AP Photo/La Guardia)

US singer Beyonce (l) is seen in a private restaurant in Havana, next to her husband Jay Z (C - green shirt), on April 4, 2013. AFP PHOTO/STR (Photo credit should read STR/AFP/Getty Images)

US singer Beyonce is seen in a private restaurant in Havana, next to her husband Jay Z (green shirt), on April 4, 2013. AFP PHOTO/STR (Photo credit should read STR/AFP/Getty Images)

U.S. singer Beyonce poses for photos with school children as she tours Old Havana, Cuba, Thursday, April 4, 2013. Beyonce is in Havana with her husband, rapper Jay-Z, on their fifth wedding anniversary. (AP Photo/Ramon Espinosa)

U.S. singer Beyonce and her husband, rapper Jay-Z, hold hands as they tour Old Havana, Cuba, Thursday, April 4, 2013. R&B's power couple is in Havana on their fifth wedding anniversary. (AP Photo/Ramon Espinosa)

U.S. singer Beyonce and her husband, rapper Jay-Z, right, tours Old Havana as a body guard, left, and tour guide, right, accompany them in Cuba, Thursday, April 4, 2013. R&B's power couple is in Havana on their fifth wedding anniversary. (AP Photo/Ramon Espinosa)

U.S. singer Beyonce, center holding camera, walks with her husband, rapper Jay-Z, right of her, as they tour Old Havana, Cuba, Thursday, April 4, 2013. R&B's power couple is in Havana on their fifth wedding anniversary. (AP Photo/Ramon Espinosa)

People react to the press as they wait outside the Saratoga hotel to see U.S. singer Beyonce in Old Havana, Cuba, Thursday, April 4, 2013. Beyonce is in Havana with her husband, rapper Jay-Z, on their fifth wedding anniversary. (AP Photo/Ramon Espinosa)

U.S. singer Beyonce and her husband, rapper Jay-Z, tour Old Havana, Cuba, Thursday, April 4, 2013. R&B's power couple is in Havana on their fifth wedding anniversary. (AP Photo/Ramon Espinosa)

Workers at the La Moneda Cubana restaurant stand on a balcony to watch the arrival of U.S. singer Beyonce and her husband, rapper Jay-Z, in Old Havana, Cuba, Thursday, April 4, 2013. R&B's power couple is in Havana on their fifth wedding anniversary. (AP Photo/Ramon Espinosa)

U.S. singer Beyonce and her husband, rapper Jay-Z, are surrounded by body guards as they tour Old Havana where a street performer on stilts looks on, right, in Cuba, Thursday, April 4, 2013. R&B's power couple is in Havana on their fifth wedding anniversary. (AP Photo/Ramon Espinosa)

U.S. singer Beyonce holds her camera as she tours Old Havana, Cuba, Thursday, April 4, 2013. Beyonce is in Havana with her husband, rapper Jay-Z, on their fifth wedding anniversary. (AP Photo/Ramon Espinosa)

People position themselves outside a restaurant to catch a glance of U.S. singer Beyonce in Old Havana, Cuba, Thursday, April 4, 2013. Beyonce is in Havana with her husband, rapper Jay-Z, on their fifth wedding anniversary. (AP Photo/Ramon Espinosa)