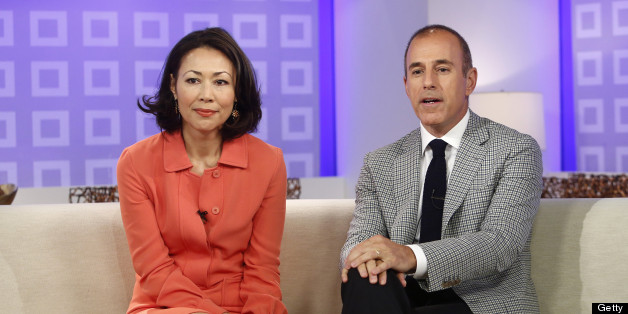 It just never ends for "Today."
The morning show is bruised and battered, still trying to recover from its firing of Ann Curry. Every time the show tries to put its head down, though, the scandal is dredged up again.
To say that Stelter's excerpt will cause headaches at 30 Rock is to put things mildly. The excerpt does not do much to radically alter the known narrative about what happened, but, in his telling, everyone's dislike and distrust for each other went much deeper than has previously been reported. For instance, he writes that Lauer—who, yet again, is placed at the heart of the decision to oust Curry—told a production assistant, "I can't believe I am sitting next to this woman." (Lauer denied this.)
In August of 2011, then-executive producer Jim Bell gave a statement to The Huffington Post saying that everything was fantastic on his show, and praising Curry to the skies.
"It says a lot about the strength of the entire team at 'Today' that we have had another smooth, seamless anchor transition," he said. "We all knew that Ann was the perfect choice."
Privately, Stelter writes, he had already called Curry's elevation a "mistake." Eventually, he became determined to oust her.
Stelter writes that, after someone told Bell that firing Curry would be like "killing Bambi," Bell gave the plan the name "Operation Bambi."
He also makes clear how miserable Curry was:
Many executives at the network never grasped how profoundly hurt and humiliated Curry remained ... she told friends that her final months were a form of professional torture. The growing indifference of [Lauer] had hurt the most, but there was also just a general meanness on set. At one point, the executive producer, Jim Bell, commissioned a blooper reel of Curry's worst on-air mistakes ... One staff person recalled that "a lot of time in the control room was spent making fun of Ann's outfit choices or just generally messing with her."
The biggest problem, judging from the excerpt, appeared to be total dysfunction at the top. As Stelter writes—and as others, including New York's Joe Hagan, have also reported—NBC News chief Steve Capus loathed "Today" chief Jim Bell. Both were trying to jockey for position with NBCUniversal chief Steve Burke. Capus was loyal to Curry. Bell thought she was ruining the show.
Eventually, of course, Curry was let go. She has barely been seen on the air since.
"Today" is currently in the midst of an overhaul. It has rejiggered its anchor seating, changed its theme music, and pledged to be more "uplifting." It has two new bosses, Alexandra Wallace and Don Nash. NBC News will soon have a new president. It has tried, somewhat in vain, to do damage control. The show has been beating "Good Morning America" in the coveted demo from time to time. But it still remains to be seen when it will be able to get over Curry.
Reached for comment, a spokesperson for "Today" told The Huffington Post, "We are focused on covering several major news stories this week and producing the best show we can for our viewers, not on year-old gossip."
To read the full excerpt, click here.
SUBSCRIBE TO & FOLLOW TRUMP'S FIRST 100 DAYS
How will Donald Trump's first 100 days impact YOU? Subscribe, choose the community that you most identify with or want to learn more about and we'll send you the news that matters most once a week throughout Trump's first 100 days in office. Learn more