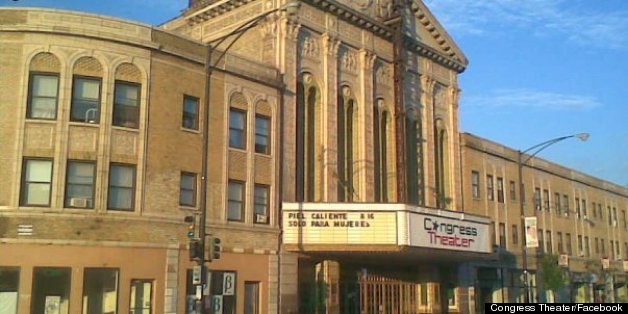 Despite the city pushing for an immediate injunction forcing the shuttering of the Congress Theater, the embattled Chicago venue will remain open -- for at least the next few days.
The crumbling venue, which has a litany of building code violations as detailed in a court filing released earlier this week, will not be able to sell any additional tickets to upcoming shows until its next court date on Tuesday and must reduce its capacity for three shows scheduled between now and then by 1,500, the RedEye reports.
The venue, located at 2135 N. Milwaukee Ave., will be inspected again on Monday, DNAinfo Chicago reports, the outcome of which will likely determined if the venue will be forced to shut down.
As WBEZ previously reported, the venue was found to have a long list of "hazardous and dangerous" violations during its most recent inspection by the city, including a number of fire hazards, defective lighting, exposed wires and an electrical system in "dangerous" condition.
Due to these violations, the venue will also be required to have two fire guards on hand at the next three shows, the Chicago Sun-Times reports.
Demetris Kare, Congress Theater owner Eddie Carranza's attorney, declined comment to the Sun-Times on the agreement, but city attorney Judy Frydland told the paper, "I think he understands how serious this is now" and noted that the theater was already working actively to correct the issues, though many remain.