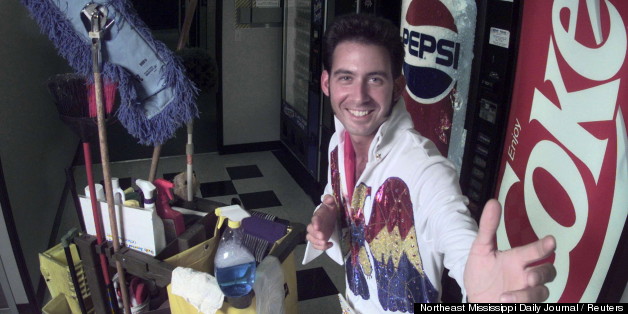 There are bad Elvis impersonators -- some can't sing, some too fat for their spangled jumpsuits -- and then there are the ones who sing "Jailhouse Rock" behind bars.
He's not even the first Elvis to be accused of threatening people with Ricin.
Back in February, 2012, Michael Conley, a 64-year-old Elvis impersonator, allegedly locked himself inside a Florida motel along with his 28-year-old son, after Ft. Pierce cops came to arrest him on an outstanding warrant.
A day later Conley allegedly blamed his behavior on diabetes, and said the Ricin was actually just salt.
There have been other Elvis Tribute Artists (ETAs) who've sung the blues for alleged crimes, including David Allen Credile, who was arrested last May in Myrtle Beach, S.C., after allegedly punching a man in the face during a fight over a board game, WALB-TV reported.
To be sure, most ETAs -- Elvis tribute Artists -- are honest people who pay tribute to one of the world's most beloved singers.
"It goes with anything," Peter Vallee, who performs in Las Vegas as "Big Elvis," told the Huffington Post.
"A bad cop, priest or politician doesn't mean it's a bad profession. It's the individual."
Vallee is quick to say that the King would not approve of illegal behavior by anyone performing in his image.
"Elvis was a great person," Vallee said. "He never would have thought of [sending Ricin-filled letters]."
Elvis Presley historian Cory Cooper agrees, and worries about how the media's focus on all things Elvis could affect reportage of the Curtis case.
"The media will manipulate it anyway they need, but the Elvis impersonation aspect is very minor to the overall story," Cooper told HuffPost. "I do believe Elvis would be extremely saddened."
GALLERY: Elvis Impersonators In Jail
Related on HuffPost:
Elvis Impersonators Do The Jailhouse Rock
SUBSCRIBE TO & FOLLOW THE MORNING EMAIL
The Morning Email helps you start your workday with everything you need to know: breaking news, entertainment and a dash of fun. Learn more