If you watched "Project Runway" (which, yes, is still on the air) back in in 2008, you might remember Detroiter Joe Faris. The designer was quite different than the youngish, Portland-based Leanne Marshall, whose feminine designs brought her the win . At the time, Faris was in his early 40s, had an established career and dressed in black t-shirts and jeans, playing up his "tough" metro Detroit roots.

Since placing sixth on the fifth season of the fashion reality competition that now airs on Lifetime, he's had his hands in several different projects, like Motor City Denim, a line Faris helped launch before leaving in 2011. He's still making his own designs, is one of the creators of the annual Fashion in Detroit event and endlessly cheerleads for the small but growing fashion industry in the city.
And now he's taken his aesthetic to Cabot Guns. The apparel designer lent his stylings to the gun manufacturer's American Joe 1911 pistol, emblazoned with an American flag: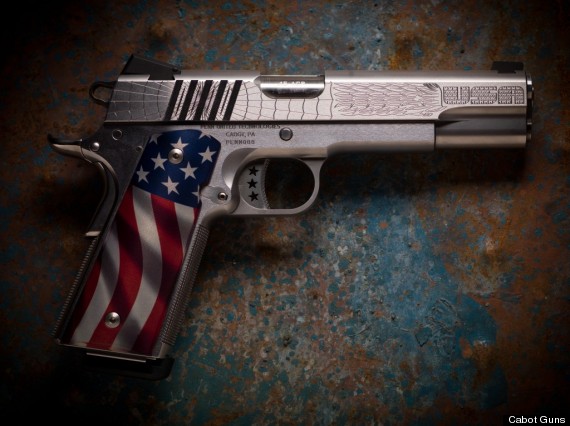 The gun evokes Detroit, both through Faris' connection and a tire tread design in the USA lettering that calls to mind the city's auto industry. It's a bit of a controversial symbol to choose for a city that marked its highest murder rate in nearly two decades last year.
The signature handgun's release also comes while a debate over gun control dominates the national political conversation following the Sandy Hook Elementary shooting.
According to the Detroit Free Press, Faris didn't approach the project from a political angle:
"I see a gun as a fashionable item, as crazy as that sounds," he told the paper. But he's not oblivious to the fact that it could provoke strong reactions, telling the Free Press he loved "the controversial aspect of it."
Here's the sweeping description Cabot Guns gives for the limited-edition firearm:
This gun is a symbol of "American exceptionalism" at it's finest. The tire tread "USA" represents the speed of the bullet leaving barrel as well as the Detroit Automotive innovative spirit which is at the heart of America. The wings embody a burst of Freedom as the tire peels out shifting into a Web pattern that is traditionally Tattoo on the elbow and is fitting as the pattern on the slide. (the elbow of the gun) A spiders web in nature is one of the most complex patterns and is broken-down everyday but built back up every night. In America we continue to build just as our forefathers did for generations. The American Flag hand grip represent the strength of this country as the hand wraps around the magazine with fortitude and resilience. This gun is built purely in America and shaped out of the finest block of steel. The American Joe is a true Red, White and Blue representation of the Glory, Romance and Legend of the 1911.
Alrighty then.
What do you think? Is Faris' design in poor taste? Take our poll:

Also on HuffPost:
Loading Slideshow
It Spends A Huge Amount Of Money On Lobbying

The National Rifle Association spent between <a href="http://www.policymic.com/articles/11823/james-eagan-holmes-gun-control-debate-nra-still-has-the-numbers-and-the-money" target="_blank">$1.5 million and $2.7 million on federal-level lobbying efforts between 2001 and 2010</a>, and an additional $7.2 million supporting candidates during the 2010 election, according to Policymic. Gun manufacturers themselves have contributed <a href="http://www.huffingtonpost.com/2013/01/11/nra-gun-control-firearms-industry-ties_n_2434142.html" target="_blank">up to $38.9 million to the NRA</a> since 2005.

It Profits From Tragedies

After both the <a href="http://www.businessweek.com/articles/2012-07-24/colorado-gun-sales-surge-after-the-aurora-massacre" target="_blank">Aurora</a> and <a href="http://thinkprogress.org/justice/2013/03/07/1683771/gun-manufacturer-profits/" target="_blank">Newtown</a> massacres, the gun industry saw huge increases in sales.

It Pushes Military-Style Weapons

Faced with a dwindling generation of hunters, the <a href="http://www.rollingstone.com/politics/news/the-gun-industrys-deadly-addiction-20130228" target="_blank">gun industry has actively promoted military-style weapons</a>, according to Rolling Stone. While sales of hunting style firearms have fallen to just a quarter of the total market, sales of assault rifles and handguns have surged.

Gun Control Legislation Has Passed Many Times Before

The debate over gun control is hardly new. <a href="http://www.theblaze.com/stories/2013/02/12/in-america-some-say-guns-are-in-our-dna-but-is-history-on-the-side-of-gun-rights-or-gun-control/" target="_blank">Gun control legislation has been passed in 1927, 1934, 1968, 1986, 1993 and 1994</a>, according to The Blaze.

It Doesn't Represent Most Americans

<a href="http://www.huffingtonpost.com/2013/01/16/gun-control-poll_n_2486116.html" target="_blank">Recent polls</a> have repeatedly shown that <a href="http://tv.msnbc.com/2013/04/03/morning-joe-poll-support-for-gun-control/" target="_blank">most Americans support stricter gun control.</a> However, the <a href="http://www.nbcchicago.com/blogs/ward-room/NRA-Anti-Gun-Poll-Results-Dont-Matter-202356331.html" target="_blank">NRA's chief lobbyist in Illinois</a> said that gun control poll results should have no impact on whether laws should change, NBC Chicago reports.

It Makes A LOT Of Guns

Over the last 25 years, <a href="http://www.theblaze.com/stories/2013/03/26/guns-at-a-glance-the-top-commercial-firearms-makers-in-america/" target="_blank">100 million guns have been made in the United States</a>, The Blaze reports. In 2011 alone, the <a href="http://www.theblaze.com/stories/2013/03/26/nr-draft-how-important-are-guns-to-the-u-s-economy-for-starters-the-firearms-industry-employs-twice-as-many-americans-as-bailed-out-gm/" target="_blank">U.S. firearms industry manufactured over 8 million guns</a>. Compare that to the only <a href="http://www.reuters.com/article/2007/08/28/us-world-firearms-idUSL2834893820070828" target="_blank">6 million guns that were manufactured worldwide</a> in 2007.

It Fears The Zombie Apocalypse

Gun manufacturers have been accused of using marketing ploys such as hyping up <a href="http://www.rollingstone.com/politics/pictures/the-gun-industrys-nine-most-outrageous-marketing-ploys-20130228/this-is-not-a-toy-0089544" target="_blank">Zombie apocalypse fears to target new customers</a>, Rolling Stone reports. <a href="http://www.zombie-defense.com/photos.html" target="_blank">Zombie Defense</a>, for example, is an entire company dedicated to selling firearms customized for the inevitable event when dead humans come back to life and attempt to destroy the world.

President Obama Has Been Good To Them

Despite regular criticism of President Obama from the NRA and other pro-gun groups, Obama has actually <a href="http://www.time.com/time/politics/article/0,8599,2046592,00.html#ixzz1pDJ3yNPk" target="_blank">expanded gun rights</a> during his first term. Fear that <a href="http://www.huffingtonpost.com/2012/02/21/obama-greatest-gun-salesman-in-america_n_1291381.html" target="_blank">Obama will crack down on guns</a> has actually led to big revenue increases for gun manufacturers, prompting some to ironically call him <a href="http://www.huffingtonpost.com/2012/12/20/obama-gun-stimulus-twitter_n_2338563.html" target="_blank">"the greatest gun salesman in America."</a>

It Will Accessorize To Attract Women

Women remain a largely untapped demographic for the gun industry, which is why manufacturers have recently stepped up <a href="http://www.sfgate.com/nation/article/For-gun-industry-women-a-major-market-4267485.php" target="_blank">efforts to attract new female customers</a>. Apparently this <a href="http://www.gungoddess.com/ar-15-pink-stock-set/" target="_blank">pink assault rifle stock set (pictured) from GunGoddess.com</a> is one way the industry hopes to entice women to buy guns. "My intention with offering these products is to encourage women to discover the enjoyment they can get from shooting and the shooting sports, while at the same time not losing sight of the most important goal - taking responsibility for their own protection and learning critical self defense skills," Athena Means, owner of GunGoddess.com, wrote The Huffington Post in an email.

NRA Members Support Background Checks

A 2012 poll revealed that <a href="http://www.huffingtonpost.com/2013/01/11/nra-gun-control-firearms-industry-ties_n_2434142.html" target="_blank">74 percent of NRA members support mandatory background checks</a> for all gun purchases, despite the organization's public opposition of such measures, according to The Huffington Post.

It Wants Your Children

<a href="http://www.nytimes.com/2013/01/27/us/selling-a-new-generation-on-guns.html?hp" target="_blank">Gun manufacturers have stepped up efforts to market to children</a> by donating to youth groups, sponsoring youth events and advertising military style rifles directly to younger shooters, according to The New York Times.

It Breaks Promises

Smith & Wesson signed a pact with the Clinton administration to cease making weapons that hold more than 10 bullet magazines. It later <a href="http://www.huffingtonpost.com/2012/12/21/smith-wesson-clinton-bush-nra_n_2348503.html" target="_blank">broke that agreement when profits plummeted</a>, The Huffington Post reports. A request for comment from Smith & Wesson was not returned.

The Second Amendment Didn't Used To Apply To Individuals

While the Second Amendment does indeed say that "the right of the people to keep and bear arms shall not be infringed," that was <a href="http://www.newyorker.com/online/blogs/comment/2012/12/jeffrey-toobin-second-amendment.html" target="_blank">historically interpreted as the right of militias to do so</a>, according to The New Yorker. It was not until a 2008 Supreme Court ruling, commonly referred to as the Heller decision, that the individual right to bear arms was guaranteed under federal law. <em>This slide has been updated to include additional information about the Heller decision.</em>

It Picks Losers

At over $1 million, the <a href="http://www.opensecrets.org/industries/indus.php?ind=Q13" target="_blank">NRA donated more money to Mitt Romney</a> than it did to any other individual in 2011 to 2012, according to Open-Secrets.com.

One Of Its CEOs May Threaten To Kill You

James Yeager, CEO of weapons training company Tactical response, infamously threatened to <a href="http://www.huffingtonpost.com/2013/01/10/james-yeager-start-killing-people-obama-gun-policy_n_2448751.html" target="_blank">"start killing people"</a> over the debate on gun control before <a href="http://www.huffingtonpost.com/2013/01/15/james-yeager-tactical-response_n_2478594.html" target="_blank">ultimately apologizing</a>.