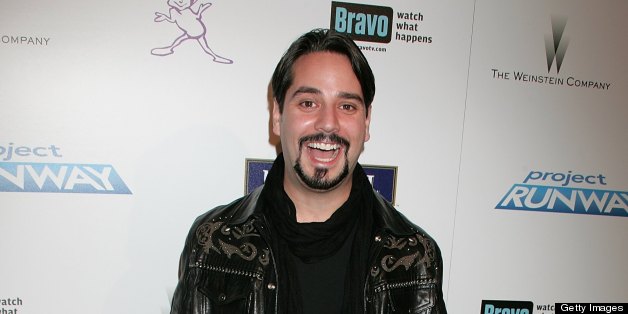 If you watched "Project Runway" (which, yes, is still on the air) back in in 2008, you might remember Detroiter Joe Faris. The designer was quite different than the youngish, Portland-based Leanne Marshall, whose feminine designs brought her the win . At the time, Faris was in his early 40s, had an established career and dressed in black t-shirts and jeans, playing up his "tough" metro Detroit roots.

Since placing sixth on the fifth season of the fashion reality competition that now airs on Lifetime, he's had his hands in several different projects, like Motor City Denim, a line Faris helped launch before leaving in 2011. He's still making his own designs, is one of the creators of the annual Fashion in Detroit event and endlessly cheerleads for the small but growing fashion industry in the city.
And now he's taken his aesthetic to Cabot Guns. The apparel designer lent his stylings to the gun manufacturer's American Joe 1911 pistol, emblazoned with an American flag: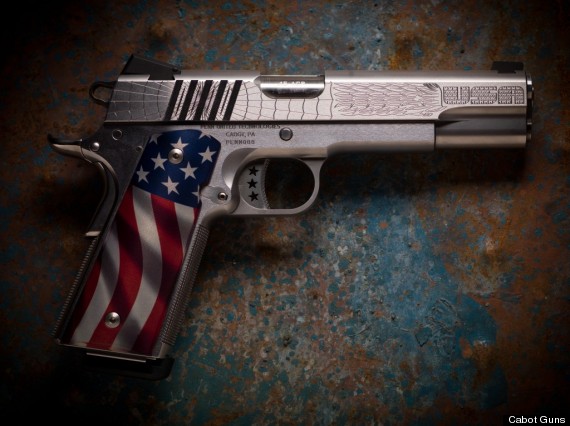 The gun evokes Detroit, both through Faris' connection and a tire tread design in the USA lettering that calls to mind the city's auto industry. It's a bit of a controversial symbol to choose for a city that marked its highest murder rate in nearly two decades last year.
"I see a gun as a fashionable item, as crazy as that sounds," he told the paper. But he's not oblivious to the fact that it could provoke strong reactions, telling the Free Press he loved "the controversial aspect of it."
This gun is a symbol of "American exceptionalism" at it's finest. The tire tread "USA" represents the speed of the bullet leaving barrel as well as the Detroit Automotive innovative spirit which is at the heart of America. The wings embody a burst of Freedom as the tire peels out shifting into a Web pattern that is traditionally Tattoo on the elbow and is fitting as the pattern on the slide. (the elbow of the gun) A spiders web in nature is one of the most complex patterns and is broken-down everyday but built back up every night. In America we continue to build just as our forefathers did for generations. The American Flag hand grip represent the strength of this country as the hand wraps around the magazine with fortitude and resilience. This gun is built purely in America and shaped out of the finest block of steel. The American Joe is a true Red, White and Blue representation of the Glory, Romance and Legend of the 1911.
What do you think? Is Faris' design in poor taste? Take our poll:
Also on HuffPost:
15 Things The Gun Industry Wouldn't Admit
SUBSCRIBE AND FOLLOW
Get top stories and blog posts emailed to me each day. Newsletters may offer personalized content or advertisements.
Learn more