Lion And Tiger Hug And Cuddle At Miami's Jungle Island (PHOTOS)
04/18/2013 02:22 pm ET
|
Updated Apr 18, 2013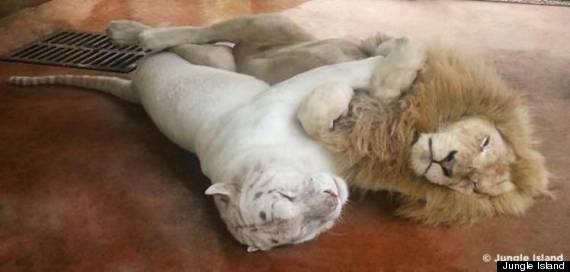 MIAMI, FL--In a week of horrifying tragedy, a local animal park's snapshot of two different species loving each other went viral on Tuesday.
Jungle Island caretakers caught Saraswati, a female snow tiger, hugging Lord Ivory, a male white lion, in the park's lion's den.
As waves of shock radiated out from Boston after the marathon bombings on Monday, Jungle Island shared the photo on Facebook and Twitter with the message "Keep your loved ones close."
A day later, Saraswati and Lord Ivory were still comforting each other, as captured below: