Here's another story of the incredible kindness of a stranger at the Boston Marathon -- and a victim who will finally get to thank the man who saved her.
Twenty-year-old Northeastern University student Victoria McGrath had suffered shrapnel wounds to her leg and appeared to be in pain in a medical tent when Sergeant Tyler Dodd stepped in to help her.
Dodd, a Purple Heart and an Afghan vet, who identifies as a recovering alcoholic, told the Daily Mail that he "saw the terror in (her) eyes" and just knew he had to talk to her.
Story continues after photo.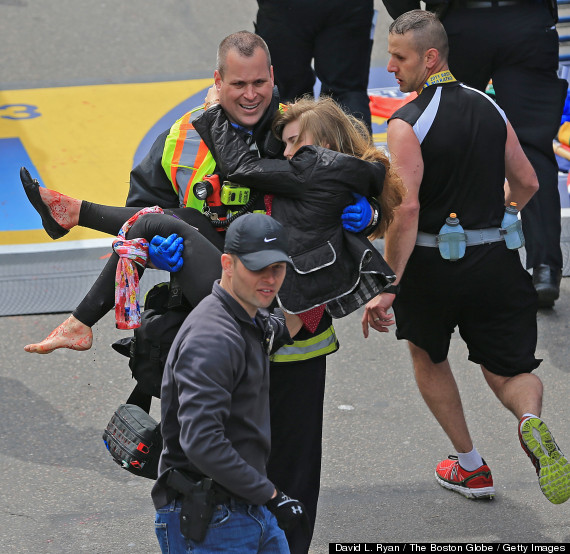 Photo shows McGrath being carried to a tent by a firefighter.
"She was obviously in extreme pain. If there was nothing else I could do, I could talk to her," Dodd said.
He showed her the marks left from his own injury from an IED.
The paper states that he told her, "You're going to have a scar, but you're going to be OK. It'll be like my scar."
Dodd's comfort helped McGrath cope: "I can't describe how calm she was at that point and she, very selflessly, told me to go help other people," he told Fox News.
During a televised press conference yesterday, Massachusetts Governor Deval Patrick announced a plea on McGrath's behalf for her savior to come forward. She wanted to express her gratitude but all she knew about him was that he was a veteran named Tyler.
Sgt. Dodd came forward hours later and a reunion is now in the works.
The former soldier told Fox, "Her strength helped me in the situation to help other people. She just seemed like an amazing person."
You can read more about Boston's heroes here.
ALSO ON HUFFPOST:
Hurricane Sandy Random Acts of Kindness
SUBSCRIBE TO & FOLLOW THE MORNING EMAIL
Start your workday the right way with the news that matters most. Learn more