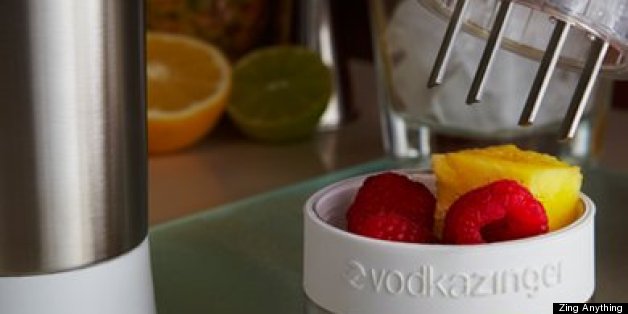 With mixology continually being raised to new standards, the world of terribly-flavored spirits will soon be behind us (at least we hope). While not every boozer has the same skill as some of the big city mixologists, we sure do hope that most people are at least trying to whip up their own drink. There are some tips that we think you can't mix without -- like allowing your ice to melt to just the right shape -- and then there's the Vodka Zinger.
The Vodka Zinger allows you to infuse your vodka with your own natural flavors. You can make mint-watermelon vodka with fresh fruit and herbs for example, and actually expect it to taste good. It works much in the same way that a cup and a muddler does, only the Vodka Zinger takes care of the straining process. According to their site, this is how it works: When you screw on the bottom cup, the blades simultaneously grind the ingredients, releasing flavorful juices and allowing them to seep into the spirits. Zing!
You can "zing" your vodka for $25.99. Or, you could just use items in your kitchen cupboard to muddle your fresh ingredients and infuse them in your spirits for zero dollars.
Want to read more from HuffPost Taste? Follow us on Twitter, Facebook, Pinterest and Tumblr.