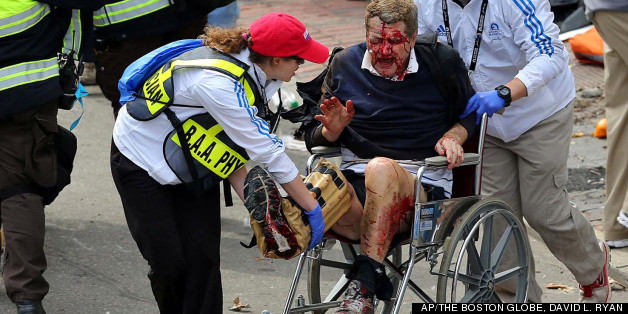 AP/THE BOSTON GLOBE, DAVID L. RYAN
Photographs from the aftermath of the Boston Marathon attack circulated around the web so quickly that, in some cases this week, victims' family members first learned about their injured loved ones through social media. For 25-year-old Richard Whalley, finding his father's image online ended up being the key to locating both his parents after the bombing on Monday.
"It was tough to see," Whalley told the Times.
The two tried calling local hospitals, but the search proved unsuccessful. They later learned their parents' names had been misspelled when they were admitted to Brigham & Women's Hospital for treatment.
On Tuesday, Whalley had good news for those who had helped him. "Both parents now in stable condition. The outcomes from examinations and surgeries today have been very positive from my dad, so we have been very lucky. The influx of help has been amazing," he posted on Facebook.
The Whalley family's story is among the many this week that have illustrated the immense role social media is playing in spreading information about the attacks. In addition to Facebook, Twitter and Reddit, Google's Person Finder tool also made it easier for people to track down their loved ones.
But this rapid flow of information also led to false accusations against innocent bystanders, whose images were plastered across social media with rampant speculation about their involvement in the attack -- simply because they happened to be carrying large bags and standing near the site of the explosions.
FOLLOW HUFFPOST