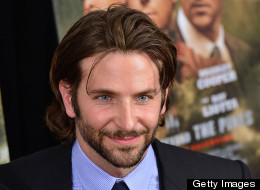 Bradley Cooper took a break from filming yesterday to visit Boston Medical Center and spend some time with the Boston bombing survivors.
Cooper, who's in Massachusetts with Jennifer Lawrence these days filming David O. Russell's 1970's thriller, visited the hospital along with Senator Elizabeth Warren of MA and Julian Edelman of the New England Patriots.
There are currently 16 Boston bombing patients reportedly still at the hospital, among them Jeff Bauman, who lost both of his legs in the attack earlier this week.
The 38-year-old actor posed with Bauman for a photo, where they're both seen smiling and the 27-year-old survivor is giving a courageous thumbs up. Bauman has also helped the authorities identify one of the suspects in the marathon bombing, per Bloomberg.
Bradley Cooper visits Boston bombing survivor Jeff Bauman in hospital. twitter.com/TheFilmStage/s…

— The Film Stage (@TheFilmStage) April 19, 2013