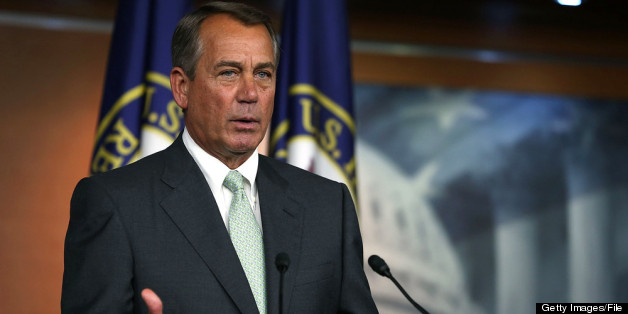 House Speaker John Boehner has gone on a Latino media following spree on Twitter.
The Ohio Republican followed dozens of Twitter accounts of prominent Latino journalists, news outlets and opinion leaders, a development that indicates his office is taking greater interest in the Hispanic media now that Congress is considering a bipartisan proposal for comprehensive immigration reform.
ABC News/Univision reporter Cristina Costantini was among the first to call attention to the development in a tweet posted Friday.
It's not clear when the Boehner account began taking such an interest in Hispanic media accounts on Twitter, though Boehner followed HuffPost Latino Voices -- one of a series of more than 90 accounts covering Hispanic affairs -- within the last 24 hours.
The wide array of tweeters Boehner's now following includes Univision anchor Jorge Ramos, Los Angeles daily La Opinión and political strategist Ana Navarro. Speaker Boehner also followed several Spanish-language accounts, including the Spanish version of the Associated Press Stylebook.
A bipartisan group of senators known as the Gang of 8 submitted an 844-page immigration reform proposal early Wednesday morning.
Here's a screenshot of some of Boehner's new followers. Click to enlarge.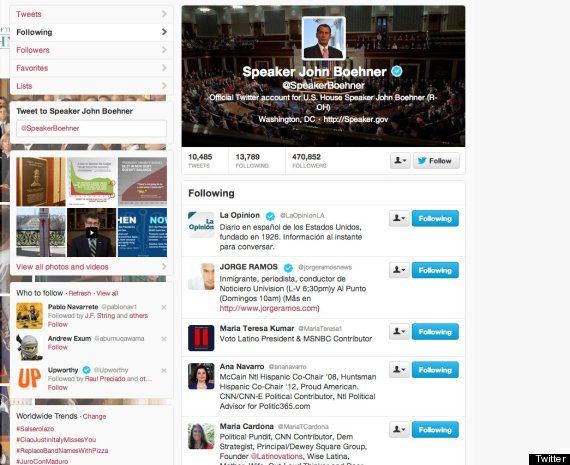 ALSO ON HUFFPOST:
7 Things To Know About Immigration Reform