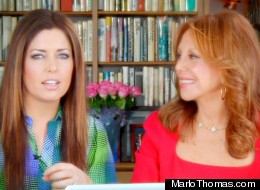 Diet and exercise are great for getting slim, but did you know you can use your makeup too? Beauty and fashion expert Bobbie Thomas joined me on Mondays With Marlo to spill her favorite tricks.
Bronzer is one of the best makeup item to slim your face. Contouring with bronzer will bring out your cheekbones and define your jawline. Proportion is also important, Bobbie said. If you have a bigger bust and want to draw attention toward your face, wear a bright lipstick color. If you have fuller cheeks and want to draw attention away from them, focus on creating smoky eyes.
Watch the full interview here. And get Bobbie's new book here.
Get more of Bobbie's favorite tips to look good:
12 Spring And Summer Style Tips By Bobbie Thomas
If you want to downplay a more ample derriere, consider a peplum design to add definition. Color blocking is another good way to draw eyes up rather than to your backside -- wear colors up top and stick to neutrals on the bottom.

The pieces that will give you the most bang for your buck are accessories -- these are items you're going to be wearing several times a week. Buy a great bag and ditch the pricey heels, opting for a great pair of comfortable, stylish sandals. And even though it's warm out, don't skip scarves. They're an easy way to add color to your wardrobe and are wonderful at multi-tasking: use a scarf as a sarong or head wrap at the beach, wear it around your shoulders in air conditioning or tie it around your neck to pull together an outfit.

This summer, don't shy away from vibrant colors like neon or pastels. White is also making a comeback. Incorporate it into your wardrobe by adding a white bag or shoes to your outfit. And remember, it doesn't matter what styles are "in" if you don't feel comfortable. Choose trends and pieces that express something about you.

Make choosing a swimsuit a bit easier this summer by looking for suits that offer support, not just in the bust but in the midsection area. A little black bathing suit is the beach equivalent of a little black dress. Bobbie loves the ones offered by Miraclesuit. Avoid one piece suits with high necks and go for ones with a keyhole or other detail to elongate your body. And have fun with your cover up!

If you like to downsize your beauty routine during the warm months, the one thing Bobbie suggests you keep is fake eyelashes (or an eyelash curler and heavy-duty mascara). It sounds impractical, but great lashes will define your eye without making you look too made up.

One of the easiest ways to look fashionable and age appropriate is to update your hairstyle. It's the accessory you wear 365 days a year and it's probably due for an update. This is a time when it's worth the investment to find a good hairdresser and get a fresh look.

Reduce an oily face by using primer before foundation or opting for a BB cream. These multi-tasking formulas distill primer, moisturizer, foundation and SPF into one handy bottle. For mid-day touchups, Bobbie likes using a mineral powder -- get one with SPF for sun coverage -- or blotting papers.

Try Bobbie's favorite DIY trick to figure out the best eyebrow shape for your face. First put a pencil along your nose until it meets your brow. Then position the pencil just outside the outer edge of your eye. Those are your guidelines of where your brows should start and end.

The right makeup can make you look slimmer right away. Contouring with bronzer can make all the difference. Use some under your cheekbone or along your jaw line to make cheekbones pop, along the side of your nose from the bridge straight down to make your nose look thinner or on your jaw line and under your chin to elongate your face.

Thinking about going for a new hair color? First, make sure your hair is in a healthy condition, or any color won't look its best. Ready to select a shade? Bobbie recommends getting lowlights if your hair color is naturally light. The darker pieces will keep you from looking washed out. If your hair is darker, opt for highlights a few shades lighter than your natural color.

When the weather can't seem to make up its mind, choose styles that'll look good no matter what Mother Nature is up to. A classic trench coat is always fashionable and flattering on nearly every shape. If you want a sporty, but still feminine look, a ¾ anorak that cinches at the middle is your best bet.

If you have a formal summer event but can't stand the thought of suffering in heels, you have fun, flat options for whatever the occasion. Patent leather shoes are always a good choice, while pointy toed, peep toed and jeweled flats also lend a dressier feel.
Add Marlo On Facebook:
Follow Marlo on Twitter:

Weekly Newsletter

Sign up to receive my email newsletter each week - It will keep you up-to-date on upcoming articles, Mondays with Marlo guests, videos, and more!

Sign up here