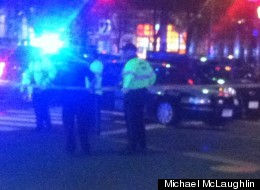 A Massachusetts Institute of Technology police officer was shot and killed on campus late Thursday night.
The officer was responding to a report of a disturbance when he was shot multiple times, Middlesex Acting District Attorney Michael Pelgro and Cambridge Police Commissioner Robert Haas stated.
According to authorities, the officer was taken to an area hospital, where he was pronounced deceased.
The name of the officer has not been released at this time. There are no other victims in the incident.
In a statement released to the press, Massachusetts State Police said no arrests have been made and a search for a suspect or suspects is ongoing.
At 1:56 a.m., MIT's Website updated students and faculty with the news that the campus was once again safe: "Police have determined that the suspect in this evening's shooting is no longer on campus. It is now safe to resume normal activities. Please remain vigilant in the coming hours."
In a press release posted early Friday, MIT offered condolences on the officer's death.
"MIT is heartbroken by the news that an MIT Police officer was shot and killed in the line of duty on Thursday night on campus, near Building 32 (the Stata Center). Our thoughts are now with the family."
This story is developing...
EARLIER REPORTS
Shortly after the shooting occurred, MIT's website posted a notice to students that gunshots were reported in the vicinity of Building 32 in the Stata Center of the campus. School authorities asked students to stay clear of the area while the investigation was underway.
MIT's emergency system also sent the following text to students:
Emergency text:(ECNET):MITAlert: There is a report of an Active Shooter in the vicinity of Building 32 Stata Center. Stay clear of the area. Follow up: emergency.mit.net
The Twitter account for MIT's student newspaper, The Tech, also sent a notice urging students to stay inside.