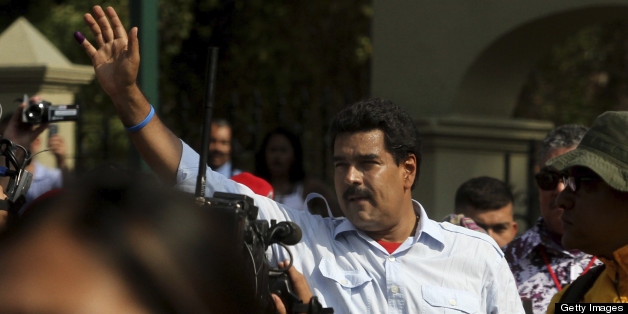 By Daniel Wallis and Brian Ellsworth
CARACAS, April 19 (Reuters) - Nicolas Maduro will be sworn in as Venezuela's president on Friday at a ceremony attended by several Latin American leaders, after a decision to widen an electronic audit of the vote took some of the heat out of a dispute over his election.
Maduro, a bus driver-turned-foreign minister who became the late Hugo Chavez's chosen successor, narrowly beat opposition challenger Henrique Capriles in Sunday's vote.
He accused Capriles of triggering post-election violence that killed eight people, though the opposition says Maduro allies staged some incidents to distract from the vote dispute.
"I want to take my oath before the people, to see the eyes of the boys and girls, the humble men and women," Maduro said in a televised speech. "There will be no pact with the bourgeoisie."
Overnight he attended a last-minute meeting of South American leaders in Peru to discuss the situation.
While he was in Lima, Venezuela's electoral authority said it would widen to 100 percent an audit of electronic votes from a previous audit that reviewed 54 percent of the machines.
"We do this in order to preserve a climate of harmony ... and isolate violent sectors that are seeking to injure democracy," Tibisay Lucena, president of the National Electoral Council (CNE), said in a televised speech to the nation.
Venezuelans vote electronically, but the machines also print out paper receipts of each vote that are kept in boxes. The audit involves counting the paper ballots to ensure they are consistent with the machine-tallied results.
Capriles, who insists the opposition's figures show he won, accepted the CNE's decision although it fell short of the manual recount he had wanted.
He told supporters to play salsa music in their homes on Friday in protest at the inauguration, following several nights of banging pots and pans to express outrage over the vote.
"This struggle is not finished, we are now entering a new phase," Capriles said late on Thursday. "I'm convinced that the truth will come out, sooner rather than later."
Opposition legislators have said they will boycott Maduro's swearing-in ceremony, which is due to take place at 11 a.m. (1130 ET/1530 GMT) in the National Assembly.
The date for the start of the wider audit is to be announced next week. It is expected to take 30 days.
The CNE's decision considerably eased tensions after days of violence and angry allegations by both sides that their rivals were sending armed thugs into the streets to terrorize people.
"Thank God everything is calm," said construction worker Elias Simancas, 61, sitting on a bench near a square in Caracas where police fired teargas and rubber bullets this week to chase away masked protesters who threw stones and burned tires.
"The opposition lowered tensions, the government as well."
MILITARY PARADE
Maduro, 50, received a show of support at the late-night meeting of a group of South American nations called Unasur, which welcomed the CNE's move, congratulated him on his victory, and called on both sides to reject violence.
Heads of state due to attend Maduro's inauguration include Brazil's Dilma Rousseff and Iran's Mahmoud Ahmadinejad, along with leaders of Chavez-era allies such as Bolivia, Uruguay and Nicaragua.
Russia and China, both partners in major oil projects in Venezuela's vast Orinoco belt region, sent delegations headed by senior officials.
The ceremony is due to be held at the National Assembly and will be followed by a military parade. Jets making practice runs have soared over the capital repeatedly this week.
Argentine President Cristina Fernandez said on Twitter that on Saturday morning she planned to visit the military museum in Caracas where her friend Chavez is buried.
"I want to be there a bit more alone, without so many people, without so much noise," she said. "To Caracas, without Hugo. It's going to be difficult and strange at the same time. His funerals were so impressive it was like I was in a daze."
The unrest in Venezuela, just weeks after Chavez's death from cancer, has exposed the deep polarization of a country split down the middle between pro- and anti-government factions.
Maduro's administration accuses "fascist" Capriles supporters of going on the rampage, shooting people, attacking offices belonging to the ruling Socialist Party, and setting fire to government-run clinics staffed by Cuban doctors.
Prominent Venezuelan human rights group Provea said on Thursday it had been unable to find any evidence that the clinics, known as CDIs, were torched by opposition demonstrators. The organization slammed state media for adding to tensions by publishing unconfirmed accusations.
Capriles, who has repeatedly called on his supporters to behave peacefully, has said the government was to blame for any violence because of its refusal to hold a recount.
"I asked for reports from all the country's municipalities about incidents at CDIs," he said on Twitter. "None were affected. Only sick minds would do something like this!" (Additional reporting by Mario Naranjo and Girish Gupta; Editing by Philip Barbara)
RELATED ON HUFFPOST:
Maduro Wins Venezuelan Election
SUBSCRIBE TO & FOLLOW WORLD POST