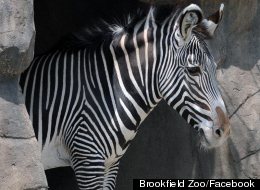 The Brookfield Zoo reopened its doors on Saturday after closing for only the third time ever due to massive flooding.
The zoo announced Friday that it will be open with free admission for reduced hours on Saturday -- from 10 a.m. to 4 p.m. -- though some animal exhibits will remain closed. The zoo will be back to regular hours on Sunday.
The zoo also warned that many Brookfield-area roads remain closed, and offered tips on an accessible route on its Facebook page.
The zoo was closed on both Thursday and Friday after more than five inches of rain were dumped on the Chicago area, leaving the zoo's entrance looking like this: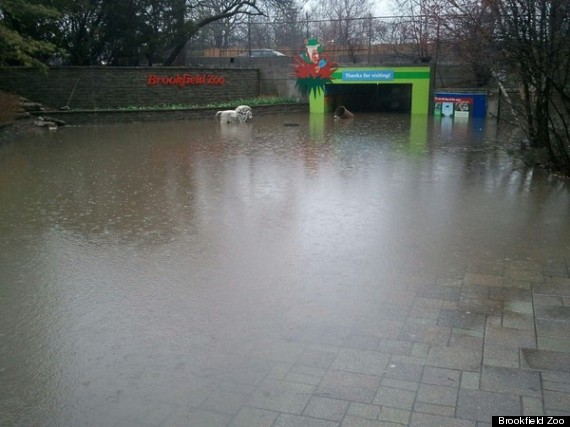 The zoo also said its Party for the Planet Earth Day celebration will be held as planned on Sunday.
Volunteer Phil Rosborough checks the sump pumps around Gurnee Community Church after the building was surrounded by flooding from the Des Plaines River Sunday, April 21, 2013. "We are keeping the inside dry," said Rosborough. "It is all hands on deck. The downtown area of Gurnee was closed due to flooding. (AP Photo/Daily Herald, Gilbert R. Boucher II)

Canoes were the mode of transportation around Des Plaines neighborhoods as Vic Kamka, center, talks to neighbors after flooding along the Des Plaines River on Sunday April 21, 2013. Many of the major roads throughout the town were closed because of flooding. (AP Photo/Daily Herald, Gilbert R. Boucher II)

Des Plaines Public Works trucks pass by stranded vehicles along Rand Road after flooding along the Des Plaines River on Sunday, April 21, 2013. Many of the major roads throughout Des PLaines were closed because of flooding. (AP Photo/Daily Herald, Gilbert R. Boucher II)

DES PLAINES, IL - APRIL 19: Octavio Castillo paddles a boat down a flooded street to reach the home of his cousin on April 19, 2013 in Des Plaines, Illinois. The suburban Chicago town is battling floodwater from the Des Plaines River which is expected to crest at a record 11 feet later today. Record-setting rains and rising rivers have caused wide-spread flooding in many Illinois communities. (Photo by Scott Olson/Getty Images)

DES PLAINES, IL - APRIL 19: Bicycles sit in floodwater outside an apartment building April 19, 2013 in Des Plaines, Illinois. The suburban Chicago town is battling floodwater from the Des Plaines River which is expected to crest at a record 11 feet later today. Record-setting rains and rising rivers have caused wide-spread flooding in many Illinois communities. (Photo by Scott Olson/Getty Images)

DES PLAINES, IL - APRIL 19: Floodwater engulfs a car lot April 19, 2013 in Des Plaines, Illinois. The suburban Chicago town is battling floodwater from the Des Plaines River which is expected to crest at a record 11 feet later today. Record-setting rains and rising rivers have caused wide-spread flooding in many Illinois communities. (Photo by Scott Olson/Getty Images)

The North Branch of Chicago River flooded at Kimball Ave.

This Thursday, April 18, 2013 aerial photo provided by the U.S. Coast Guard shows the dam in Marseilles, Ill., after seven barges broke free from a tow and came to rest against the dam. Rapid currents from this week's heavy rainstorms are blamed for the incident. The Coast Guard says the dam sustained minor damage but there were no reports of breaches in the structure or surrounding levees. No one was injured. Authorities evacuated as many as 1,500 residents of the northern Illinois city. (AP Photo/Courtesy of the U.S. Coast Guard, Petty Officer 3rd Class John Schleicher)

DES PLAINES, IL - APRIL 19: Reyes Garcia wades through floodwater to inspect flood damage to a building April 19, 2013 in Des Plaines, Illinois. The suburban Chicago town is battling rising floodwater from the Des Plaines River which is expected to crest at a record 11 feet later today. Record-setting rains and rising rivers have caused wide-spread flooding in many Illinois communities. (Photo by Scott Olson/Getty Images)

DES PLAINES, IL - APRIL 19: A driver passes through a flooded street on April 19, 2013 in Des Plaines, Illinois. The suburban Chicago town is battling floodwater from the Des Plaines River which is expected to crest at a record 11 feet later today. Record-setting rains and rising rivers have caused wide-spread flooding in many Illinois communities. (Photo by Scott Olson/Getty Images)

DES PLAINES, IL - APRIL 19: A car is stranded in the middle of a downtown street after being overcome by floodwater April 19, 2013 in Des Plaines, Illinois. The suburban Chicago town is battling rising floodwater from the Des Plaines River which is expected to crest at a record 11 feet later today. Record-setting rains and rising rivers have caused wide-spread flooding in many Illinois communities. (Photo by Scott Olson/Getty Images)

DES PLAINES, IL - APRIL 19: A resident of Des Plaines walks through floodwater to get to his home April 19, 2013 in Des Plaines, Illinois. The suburban Chicago town is battling floodwater from the Des Plaines River which is expected to crest at a record 11 feet later today. Record-setting rains and rising rivers have caused wide-spread flooding in many Illinois communities. (Photo by Scott Olson/Getty Images)

DES PLAINES, IL - APRIL 19: Hector Duran uses his bike to get him through floodwater April 19, 2013 in Des Plaines, Illinois. The suburban Chicago town is battling rising floodwater from the Des Plaines River which is expected to crest at a record 11 feet later today. Record-setting rains and rising rivers have caused wide-spread flooding in many Illinois communities. (Photo by Scott Olson/Getty Images)

DES PLAINES, IL - APRIL 19: A car is stranded in the middle of a downtown street after being overcome by floodwater April 19, 2013 in Des Plaines, Illinois. The suburban Chicago town is battling rising floodwater from the Des Plaines River which is expected to crest at a record 11 feet later today. Record-setting rains and rising rivers have caused wide-spread flooding in many Illinois communities. (Photo by Scott Olson/Getty Images)

DES PLAINES, IL - APRIL 19: A historic McDonald's restaurant is surrounded by floodwater April 19, 2013 in Des Plaines, Illinois. The restaurant is located on the site of the first McDonald's franchise opened by founder Ray Kroc on April 15, 1955. The suburban Chicago town is battling rising floodwater from the Des Plaines River which is expected to crest at a record 11 feet later today. Record-setting rains and rising rivers have caused wide-spread flooding in many Illinois communities. (Photo by Scott Olson/Getty Images)

Multiple shots of massive flooding around Dupage.

Maple Avenue in Lisle. bd89:

Massive flooding in Naperville, in photos and video.

East Dundee firefighter Nick Beauchaine, carries a scared dog, "Roxi" after helping her owner from her home in East Dundee, Ill. during a storm on Thursday, April 18, 2013. Torrential rains swept throughout the Midwest with many rivers surging beyond their banks from the downpours in Illinois, Missouri and Iowa. (AP Photo/Daily Herald, Brian Hill)

Lisle, Ill. firefighters carry a resident of the Snow Valley Nursing and Rehabilitation Center in Lisle, Ill. to safety after flood waters threatened the facility during a storm on Thursday, April 18, 2013. Torrential rains swept throughout the Midwest with many rivers surging beyond their banks from the downpours in Illinois, Missouri and Iowa. (AP Photo/Daily Herald, Daniel White)

East Dundee firefighter Nick Beauchaine, left, and lieutenant Jason Parthun, help Barrie Komorski and her dog Roxi from her home in East Dundee, Ill. , during a storm on Thursday, April 18, 2013. Torrential rains swept throughout the Midwest with many rivers surging beyond their banks from the downpours in Illinois, Missouri and Iowa. (AP Photo/Daily Herald, Brian Hill)

CHICAGO, IL - APRIL 18: Workers pull a truck from a sinkhole that opened up on a residential street in the South Deering neighborhood on April 18, 2013 in Chicago, Illinois. The driver of the truck was hospitalized after driving into the 15-feet-deep hole while on his way to work. Two other vehicles were also swallowed by the sinkhole. (Photo by Scott Olson/Getty Images)

Lisle on Thursday.

In Downers Grove.

Fred Rickert of Zion, Ill. places sandbags at Tranquility Salon on Old Grand Avenue in Gurnee, Ill. during a storm on Thursday, April 18, 2013. Torrential rains swept throughout the Midwest with many rivers surging beyond their banks from the downpours in Illinois, Missouri and Iowa. (AP Photo/Daily Herald, Steve Lundy)

CHICAGO, IL - APRIL 18: A motorist drives through a flooded section of the Kennedy Expressway on April 18, 2013 in Chicago, Illinois. Thunderstorms dumped up to 5 inches of rain on parts of the Chicago area overnight, closing sections the Edens, Eisenhower and Kennedy expressways, which lead to and from downtown, during the morning rush. (Photo by Scott Olson/Getty Images)

CHICAGO, IL - APRIL 18: A motorist drives through standing water in a flooded underpass on April 18, 2013 in Chicago, Illinois. Thunderstorms dumped up to 5 inches of rain on parts of the Chicago area overnight, closing sections the Edens, Eisenhower and Kennedy expressways, which lead into downtown, during the morning rush. (Photo by Scott Olson/Getty Images)

An abandoned car bobs in standing water under an overpass Thursday, April 18, 2013, in Chicago. Blasts of torrential rain and widespread flooding forced authorities to shut segments of major expressways, and hundreds of flights were scrapped. (AP Photo/M. Spencer Green)

The 3400 block of Rockwell at 8:30 a.m. Thursday.

"And some drivers who aren't very bright got their vehicles stuck in deep water. Boom Boom Bear of the Bear News Network is out on location in Lombard."

"It's like a river right there. It's just flowing." In an unidentified suburb on Thursday.

At Belmont and Kedzie in Chicago.

Kimball at Carmen.

CHICAGO, IL - APRIL 18: Traffic backs up near a flooded section of the Kennedy Expressway on April 18, 2013 in Chicago, Illinois. Thunderstorms dumped up to 5 inches of rain on parts of the Chicago area overnight, closing sections the Edens, Eisenhower and Kennedy expressways, which lead to and from downtown, during the morning rush. (Photo by Scott Olson/Getty Images)

CHICAGO, IL - APRIL 18: A motorist drives through standing water in a flooded underpass on April 18, 2013 in Chicago, Illinois. Thunderstorms dumped up to 5 inches of rain on parts of the Chicago area overnight, closing sections the Edens, Eisenhower and Kennedy expressways, which lead into downtown, during the morning rush. (Photo by Scott Olson/Getty Images)

East Dundee firefighter Nick Beauchaine, left, and lieutenant Jason Parthun, help Barrie Komorski and her dog Roxi from her home along Fox River Drive in East Dundee, Ill. , during a storm on Thursday, April 18, 2013. Torrential rains swept throughout the Midwest with many rivers surging beyond their banks from the downpours in Illinois, Missouri and Iowa. (AP Photo/Daily Herald, Brian Hill)

Lisle, Ill. firefighters carry a resident of the Snow Valley Nursing and Rehabilitation Center in Lisle, Ill. to safety after flood waters threatened the facility during a storm on Thursday, April 18, 2013. Torrential rains swept throughout the Midwest with many rivers surging beyond their banks from the downpours in Illinois, Missouri and Iowa. (AP Photo/Daily Herald, Daniel White)

Lisle, Ill. firefighters carry a resident of the Snow Valley Nursing and Rehabilitation Center in Lisle, Ill. to safety after flood waters threatened the facility during a storm on Thursday, April 18, 2013. Torrential rains swept throughout the Midwest with many rivers surging beyond their banks from the downpours in Illinois, Missouri and Iowa. (AP Photo/Daily Herald, Daniel White)

CHICAGO, IL - APRIL 18: Motorists drive through water on a flooded exit ramp from the Kennedy Expressway on April 18, 2013 in Chicago, Illinois. Thunderstorms dumped up to 5 inches of rain on parts of the Chicago area overnight, closing sections the Edens, Eisenhower and Kennedy expressways, which lead to and from downtown, during the morning rush. (Photo by Scott Olson/Getty Images)

CHICAGO, IL - APRIL 18: Motorists drive through water on a flooded exit ramp from the Kennedy Expressway on April 18, 2013 in Chicago, Illinois. Thunderstorms dumped up to 5 inches of rain on parts of the Chicago area overnight, closing sections the Edens, Eisenhower and Kennedy expressways, which lead to and from downtown, during the morning rush. (Photo by Scott Olson/Getty Images)

CHICAGO, IL - APRIL 18: Motorists navigate surface streets during a heavy rainfall on April 18, 2013 in Chicago, Illinois. Thunderstorms dumped up to 5 inches of rain on parts of the Chicago area overnight, closing sections the Edens, Eisenhower and Kennedy expressways, which lead to and from downtown, during the morning rush. (Photo by Scott Olson/Getty Images)

A section of a car can be seen in a gaping sinkhole that opened up a residential street on Chicago's South Side after a cast iron water main dating back to 1915 broke during a massive rain storm Thursday, April 18, 2013, in Chicago. The hole spanned the entire width of the road and chewed up grassy areas abutting the sidewalk. Two of the cars that disappeared inside had been parked, but a third was being driven when the road buckled and caved in. Only the hood of one of the vehicles could be seen peeking from the chasm.(AP Photo/M. Spencer Green)

Officials survey a gaping sinkhole that opened up a residential street on Chicago's South Side after a cast iron water main dating back to 1915 broke during a massive rain storm, Thursday, April 18, 2013, in Chicago. The hole spanned the entire width of the road and chewed up grassy areas abutting the sidewalk. Two of the cars that disappeared inside had been parked, but a third was being driven when the road buckled and caved in. Only the hood of one of the vehicles can be seen peeking from the chasm.(AP Photo/M. Spencer Green)