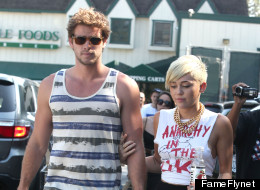 Although we thought the Miley Cyrus wedding rumors were all cleared up, we were wrong.
The 20-year-old singer and her fiance Liam Hemsworth, 23, have apparently decided to postpone their nuptials after reports claimed the couple was on the verge of a breakup. A source tells People that Miley and Liam "want to figure out their life together before they get married."
But that's not all. Earlier this week, Miley's dad Billy Ray Cyrus hinted that the pair was taking a break, admitting that he didn't know if a wedding would ever take place.
"They're young, they're kids, the great news is they're great friends, they're really good friends," Billy Ray told ABC News in an interview. "I play it by ear, I know whatever's meant to be that's the way it's going to happen." Eek!
Also this week, a never before seen photo of a topless Angelina Jolie being nuzzled by a horse made it's Internet debut. The photo, taken in 2001, is being auctioned off at Christie's and is expected to make between $38,325 and $52,655.
In not so great news, Gwyneth Paltrow was named the most hated celebrity by Star magazine for being "arrogant" and "pretentious." Kristen Stewart, Jennifer Lopez, John Mayer and Katherine Heigl also made the list.
But it wasn't all bad things this week. TIME released its roundup of the Most Influential People in the World on April 18, revealing that stars like Jennifer Lawrence, Justin Timberlake, Lena Dunham, Jimmy Fallon, Beyonce and Jay-Z are among the prestigious honorees. Way to go, Hollywood!