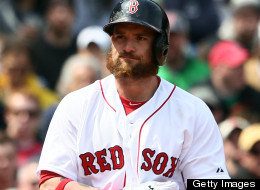 As London Marathon runners donned black ribbons and armbands to honor the victims of the Boston Marathon bombing, hometown athletes continued to pay tribute in their own way.
Boston Red Sox outfielder Jonny Gomes joined several of his teammates who have given recognition to those who were killed and injured at the hands of the bombing suspects.
In a photo, posted to Twitter by teammate Will Middlebrook, Gomes debuted his custom "Boston Strong" bat that featured the names of the three people killed in Monday's bombing, along with the name MIT campus police officer who was fatally shot Thursday.
Jonny Gomes bat today twitter.com/middlebrooks/s…

— Will Middlebrooks (@middlebrooks) April 21, 2013
On Saturday, the Red Sox wore special home jerseys with "Boston" featured on the front to represent the city. Designated hitter David Ortiz also had some choice words to say, telling the crowd: "This is our fucking city. And nobody is going to dictate our freedom. Stay strong."
Gomes will use the engraved bat when the Sox play the Kansas City Royals Sunday.