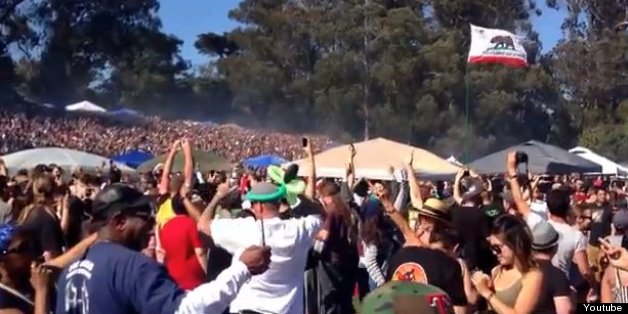 And now for entry number 23,145 in our continuing series, "Why We Can't Have Nice Things: San Francisco Edition."
On Saturday, thousands of revelers gathered in Sharon Meadow (aka "Hippie Hill") on the eastern edge of Golden Gate Park for an afternoon of fun, frivolity and getting toasted in honor of 4/20--the day when marijuana enthusiasts around the world celebrate marijuana by smoking marijuana.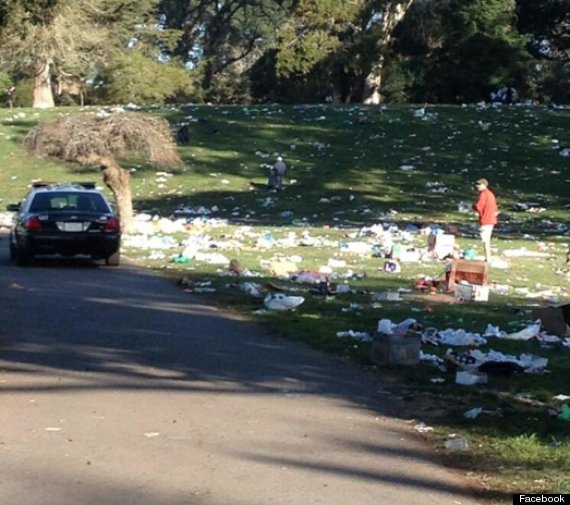 The San Francisco Chronicle reports that the city cleaned up over 10,000 pounds of trash from the unsanctioned, informal event, which lacks any kind of central organization to do things like set up additional trash cans or provide portable toilets. On average, picking up after Hippie Hill's annual party costs the city $10,500 per year.
"It's almost completely unmanageable. There are no officials you can contact to deal with things so that's a frustration for us," the San Francisco Police Department's Lt. Simon Silverman told the Chronicle. "The people paying for all of this are going to be the taxpayers, so it's not without cost."
Smoking marijuana in Golden Gate Park is technically illegal, even for card-carrying medical patients; but, as per official city policy, busting people for smoking pot is SFPD's lowest possible priority. An SFPD official told the San Francisco Examiner, however, that the department had a "zero tolerance policy" for people caught selling the drug at the event.
It's great that our parks - the best park system in the country - are so popular and well-used, but we're developing a culture of complete disrespect for these public spaces. This trashing of Golden Gate Park during the 4/20 event is just the latest example. Dolores Park receives similar trashing on any nice and crowded day. The solution isn't to stop people from enjoying our parks, which exist to be enjoyed. How can we get people to be more respectful and to pick up after themselves, just like mom taught us to do when we were 3 years old?
And this year wasn't the first time 4/20 in Golden Gate Park was marred by violence. In 2011, a 47-year old woman was smashed in the face with a portable radio in an incident the Examiner called a "stoned cold assault."
Also on HuffPost:
Best 'Onion' Stoner Headlines
SUBSCRIBE AND FOLLOW
Get top stories and blog posts emailed to me each day. Newsletters may offer personalized content or advertisements.
Learn more