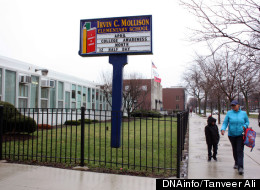 Story by Tanveer Ali, courtesy DNAinfo Chicago:
CHICAGO — Student enrollment at several Chicago Public Schools could balloon over capacity if the district closes 54 schools as planned, data shows.
As many as nine elementary schools would exceed 100 percent capacity if every closure and consolidation is approved by the Board of Education next month, an analysis by DNAinfo.com Chicago shows. CPS classifies schools with 30 students per homeroom as being at 100 percent capacity.
Those schools included Mollison Elementary School in Bronzeville; Earle Elementary School in West Englewood; Laura Ward Elementary School in Humboldt Park; Chopin Elementary School in West Town and Dulles Elementary School in Woodlawn.