A photograph uploaded on Flickr last week has revealed the lion-hearted heroism of a man who whisked his injured girlfriend to safety moments after two blasts exploded near the finish line of the Boston Marathon: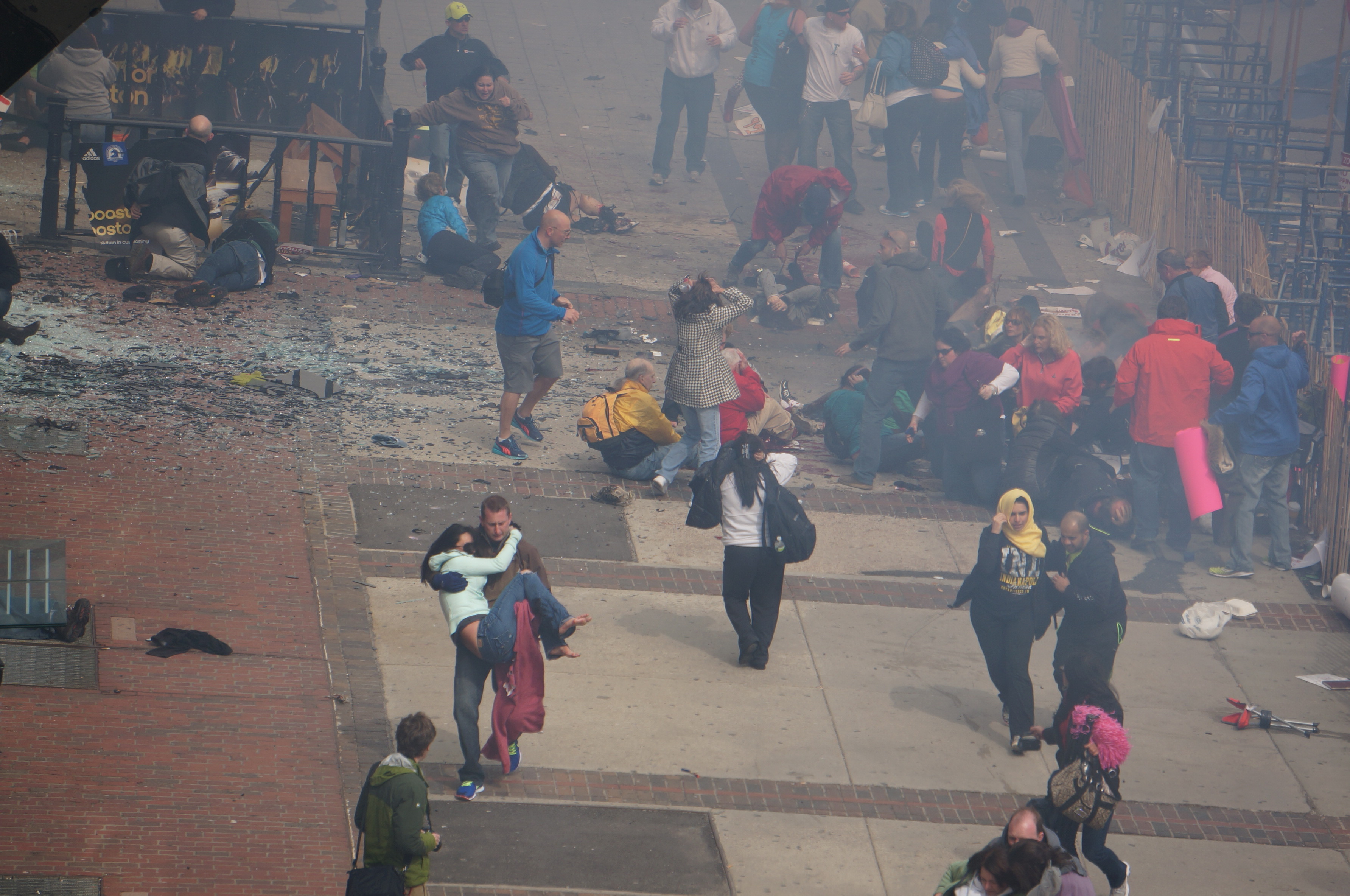 (Credit: Flickr/hahatango)
The powerful photo -- uploaded April 15 by Flickr user Aaron Tang, who says he'd been watching the marathon from his office window when the two blasts ripped through the crowds below -- shows 41-year-old Leo Fonseca carrying his girlfriend, 25-year-old Kaitlynn Cates, away from the site of the first blast.
The couple, who live in Boston and have reportedly been dating for 10 months, had been watching friends finish the race when the explosion knocked them to the ground.
"We were behind the Canadian flag in front of Lens Crafters about 50 feet from the finish line," wrote Cates in a statement last week, according to ABC affiliate WCVB.com. "We had seen our first set of friends run through the finish line and were waiting for the second set. All of a sudden the first bomb went off and we got swept off our feet onto the ground."
According to USA Today, Cates was nearly killed in the blast.
Concerned that another explosion was coming and wanting to use his body as a shield, Fonseca is said to have flung himself over his injured girlfriend.
"Leo tried to hook his body around me. He literally straddled me and said 'Stay down, stay down' because I was trying to get up and he didn't know if there was going to be another bomb," said Cates in her statement.
Moments later, a second explosion could be heard in the distance. Cates then began screaming, "Get me out of here!"
Scooping her into his arms, Fonseca ran to his car, which was parked a block away. A pair of strangers reportedly helped to get Cates bundled into the vehicle, before Fonseca quickly sped off, driving the wrong way to get Cates to Massachusetts General Hospital.
Cates said that Fonseca acted so quickly that she was the first person to the hospital.
Cates, who met President Barack Obama last week when he visited Boston, is now recovering from her injuries.
Though distressed that she and Fonseca couldn't have helped other blast victims, Cates said she's immensely grateful to her boyfriend for saving her life.
"I don't know if I would have made it if I would have had to wait for the emergency workers," Cates told the Boston Globe last Wednesday of Fonseca's action. "He was an absolute hero."
For more on this story, watch this ABC News video about Cates and Fonseca: