Tony Case, executive editor at AdWeek, found a pair of receipts at a New York branch of Chase bank that tell two very different stories about life in one of the most unequal cities in the country.
One receipt is for a $300 withdrawal on an account with a balance worth $1 million*, the other says the customer has "insufficient funds" to pull out $100.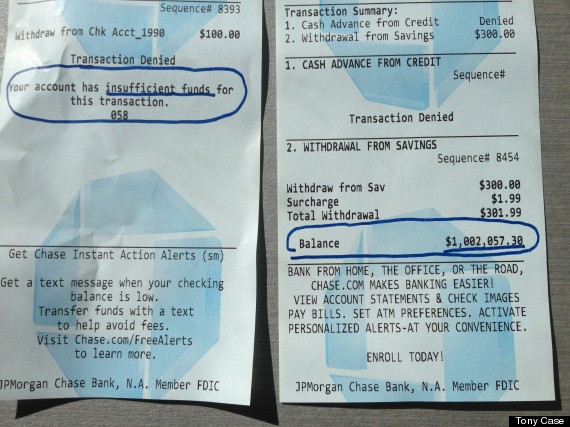 The receipts offer a simple illustration of the stark income inequality in New York where nearly half of the city's residents were poor or near-poor in 2011, according to a just-released analysis from the Bloomberg administration cited by The New York Times. During the same year New York was also the American city with the most millionaires, according to 24/7 Wall Street.
Perhaps a recent Census Bureau finding says it best: New York City and New York State were the metropolitan area and state respectively with the highest level of income inequality in the country. Or just take a ride on the subway and you will be transported from the land of the haves to the have-nots in about 10 minutes, as this graphic from the New Yorker notes.
Oddly enough this isn't the first time an insane receipt discarded by a New York-area ATM has gone viral. In June 2011 someone left a receipt for a bank account with a nearly $100 million balance outside of an ATM in East Hampton, New York, the summer playground of the super-rich.
*Unexplained: Why the $1 million account holder also seems to have asked for an advance from his line of credit.
(Hat tip: Business Insider)
CORRECTIONS: An earlier version of this story misspelled Tony Case's name. We regret the error. An earlier version of this story also incorrectly implied that the $300 withdrawal from a $1 million account came from a checking account. The withdrawal was actually from a savings account.
ALSO ON HUFFPOST:
PHOTO GALLERY
BEFORE YOU GO
Outrageous Receipts (EXPLICIT LANGUAGE)
PHOTO GALLERY
Outrageous Receipts (EXPLICIT LANGUAGE)