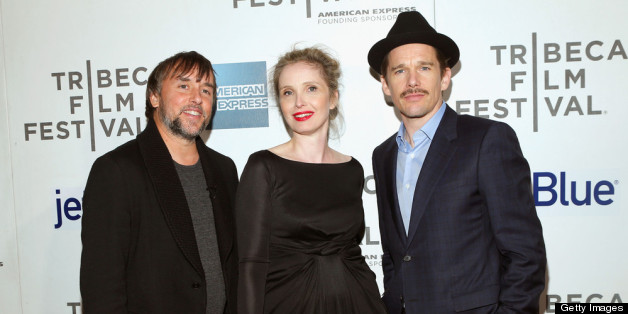 At the Tribeca Film Festival on Monday evening, celebrities descended onto the red carpet at the Borough of Manhattan Community College theater for the New York premiere of "Before Midnight." The film's stars, Ethan Hawke and Julie Delpy, who also collaborated on its script, were chipping away at the media, with Hawke wearing a black fedora and Delpy as elegant as ever in a stretchy long-sleeved dress that swept the floor. "Before Midnight" is the third (and, maybe not final) film in director Richard Linklater's romantic film trilogy, and sees lovers Jesse and Celine, now in their 40s with twin daughters, doing what they do best: walking and talking and arguing, this time through sun-soaked Greece. It's not a far stretch from the project that started it all -- 1995's "Before Sunrise" and their initial, fated meeting on a train to Vienna -- but a lot can happen in almost 20 years. Here's what they had to say.
How would Jesse and Celine meet if "Before Sunrise" were set in the present day?
Hawke: The first movie, it'd be a totally different piece right now. It doesn't feel like that much has changed, but a lot of things have changed. It's strange, my kids can't believe I grew up in a world without the Internet. But the matching scenario, I find it bizarre.
Linklater: It's just a whole different movie. It was kind of behind the curve then [technology-wise]. There's a record, going to a listening booth in a record store, that was pretty antique and obsolete even then, and we shot that in '94. So it was always behind the curve, technologically speaking. You could be online back then. But not that many people were. It was more the romantic idea of not connecting. And now it just seems impossible that two people wouldn't exchange digits of some kind. So that conceit would be hard to pull off.
Some have suggested that a "Before" film will come out every nine years until, well, Jesse and Celine die. Will this be an ongoing thing?
Linklater: It's coincidental, I think, that these last two have been nine years. It just worked out that way. I think it'd be funny if we did one like 18 months from now and it was some genre -- thriller, comedy or something. Some action film. Wouldn't that be bizarre? Celine and Jesse would just, yeah, same characters, same stage in life, just a year-and-a-half later, realize you're in some weird genre. We're going to do that.
Did Jesse cheat on his wife in that final scene of the last movie, "Before Sunset"? You know, when Celine had invited him back to her apartment and he misses his flight? It's assumed in the new movie but not completely spelled out.
Hawke: For me to answer that, I wouldn't have made that movie. But the point is, it's creating a situation that makes you think about that subject. What is fidelity, fidelity to yourself, fidelity to your past commitments, what does that mean? That's what the movie is asking you to think about, not, "Did he?" I mean, you know, yes, in the first two [films] it's, "Are they going to get back together?" The point is, it's supposed to provoke that kind of thought. And if I answer it, I delete the point of it. [beat] You know exactly what he did, and so do I.
You look disgruntled with my answer. The funny thing is that that's what Jesse and Celine are discussing at the beginning of "Before Sunset," when she's asking, but what happens to those characters in your book, what happens? You see? We're role-playing here, you and me.
SUBSCRIBE TO & FOLLOW ENTERTAINMENT
Spilling the tea 24/7. Never miss a beat. Learn more