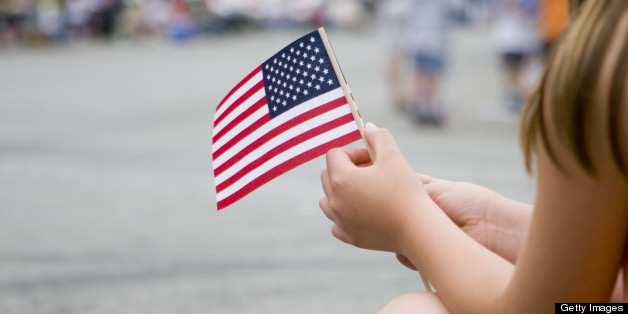 Enidris Siurano Rodríguez may only be in 10th grade, but she knows if she wants to make a change, she has to stand… or in this case, sit for it.
The Puerto Rican-born 15-year-old is making a statement for her cause: raising consciousness about the political situation of the island of her birth and emphasizing her disagreement with U.S. government policies towards the island due to its territorial status.
Since 7th grade the honor student and gifted violinist, who moved to the U.S. mainland when she was three years old, decided not to participate during the Pledge of Allegiance to the American flag in her Maryland high school, and stayed silent and seated during that time as a way to protest.
"I did it when I began to understand the current political situation of Puerto Rico, which I do not like," Siurano told Puerto Rican daily El Nuevo Día. "I do not agree with the way the United States treats Puerto Rico... I think Puerto Rico has an undemocratic situation, I dislike the idea that a government so far [from the island] tells us what we can and cannot do. "
Her actions have brought problems with the school's administration, which she says used "harassment and intimidation" to make her betray her beliefs.
Recently, the American Civil Liberties Union of Maryland accused the Montgomery County Maryland Public School of violating Siurano's rights after at the beginning of the year her teachers confronted her several times and sent to the principal's office. Authorities told the teenager that while she didn't have to recite the Pledge of Allegiance, she had to stand up every morning during that time.
According to the ACLU, Siurano's mother was also informed that if her daughter keeps up her protest she would be removed from class. Since then, teachers have constantly asked the student to stand up by her teachers in an effort the legal organization describes as a way to intimidate her and make her flinch.
"Our schools do start each day with the Pledge of Allegiance but students are not required to stand or participate," Montgomery County schools spokesman Dana Tofig said to The Gazette. "The procedures are very straight-forward: If a student does not want to participate in the Pledge, they do not have to and cannot be compelled to do so."
In Maryland, even though the statute demands that schools say the pledge every day, students that don't want to do so can be excused, TakePart reports. In an interview with the site David Rocah, staff attorney at the ACLU of Maryland, said the reasoning for telling Rodriguez she must stand "was because she felt Siurano was being disrespectful to military families and the kids from military families in the school."
Stars like Ricky Martin and Calle 13's René Perez turned to social media to show their support for the teenager.
"The right to free speech also includes the right not to speak. Too often this is forgotten" #SolidarioConEnidris
— Ricky Martin (@ricky_martin) April 12, 2013
Lean el caso de la estudiante puertorriqueña Enidris Siurano Rodríguez..elnuevodia.com/jovenboricuase…
— Residente C13/ RC13 (@Calle13Oficial) April 11, 2013
Puerto Rico has been an unincorporated territory of the United States since 1898. Although the islanders have a U.S. citizenship and elect their own governor democratically, they do not have the right to vote for president, and only count on one delegate who doesn't have voice or vote in the U.S. Congress.
ALSO ON HUFFPOST:
5 Reasons Why Puerto Rico Probably Won't Become The 51st State