Eva Longoria's new reality series "Ready for Love" may have gotten canceled, but at least one couple may have come out of the experience: Eva herself and hunky bachelor Ernesto Arguello.
Life & Style was first to report of the former "Desperate Housewives" star's new romance with the 33-year-old contestant, quoting sources who said "they are dating but it is very new. She enjoys his company and thinks he is a great guy."
Rumors soon swirled and Eva, 38, quickly jumped to quash them, tweeting a denial yesterday afternoon:
Sorry @ernestoarguello is NOT dating me, but u can see who he is dating on #ReadyForLove tomorrow night on NBC after #TheVoice!
— Eva Longoria (@EvaLongoria) April 22, 2013
But tough luck -- Longoria and Arguello forgot to take the paps into consideration ... the very same photographers who snapped the two lovebirds holding hands back in March (see photo below).
Add these sweet quotes Arguello said of his former dating show host turned date -- "She is the sweetest girl. She is definitely a keeper!" -- and we've got a potentially hot romance on our hands.
Just a couple months ago, Longoria revealed to The Huffington Post her dating deal-breaker (ignorance) and said what she's learned from past relationships is to "no longer [be] jealous in my life. Jealousy's a form of wasted energy, that's one thing I've learned."
Longoria was previously married to Tyler Christopher and to Tony Parker.
PHOTO: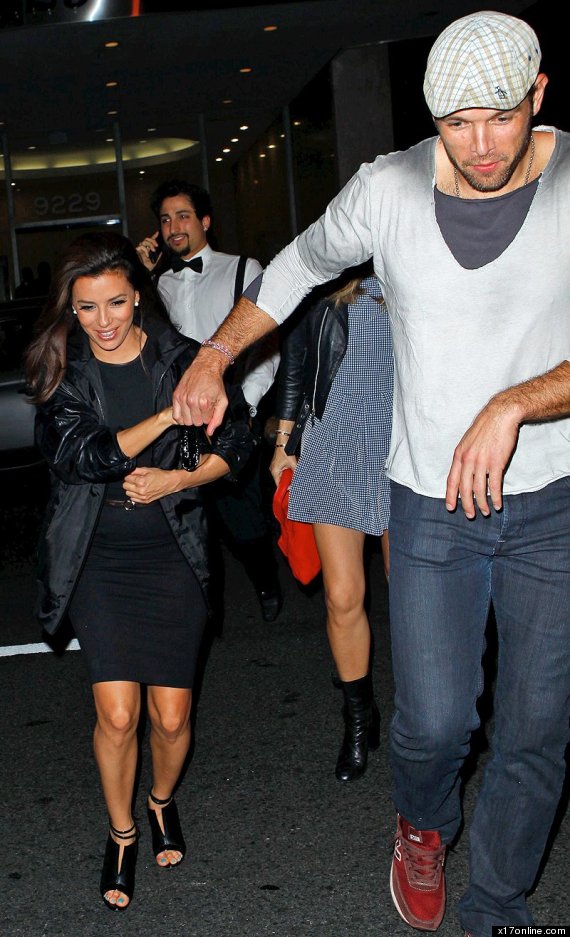 Click here to see more pictures of Eva and Ernesto on X17online.com.