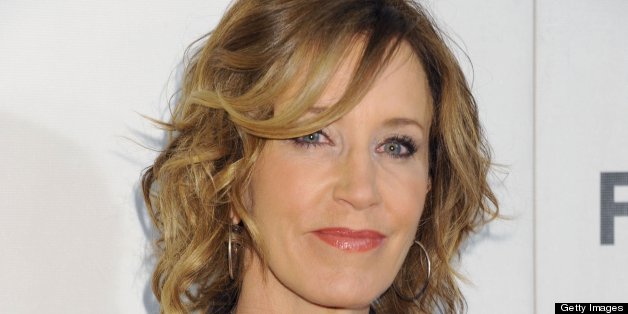 HuffPost Entertianment nabbed a few minutes with Felicity Huffman on April 20 at the Tribeca Film Festival premiere of "Trust Me," her new movie written and directed by Clark Gregg and co-starring Amanda Peet, Allison Janney and Sam Rockwell. The actress discussed what it's like to work with her husband, William H. Macy, the possibility of a "Desperate Housewives" movie and how far she'd go for Cate Blanchett.
You work with your husband William H. Macy frequently. He's currently directing you in a movie. Tell me a little bit about what that process is like.
I've worked with Bill my whole life. We met at a theater company and so I find it incredibly pleasurable. It's kind of like any sport you play -- if you play with someone that's above your level, your quality of game rises.
So do you guys bring work home with you as well? Or do you say you're not going to talk about movies when you get home?
I think the only rule we've ever made, which we've sort of broken a lot, is that we don't talk about acting in bed when we go to sleep. So there have been times when I've gone, "Oh, I have a really good idea, you have to get up and I'll tell you."
Oh, funny. Tell me a little about "Ruderless" (directed by Macy). Where's it headed, and what are you most excited about?
They start principal photography tomorrow. He has an amazing cast; it's Billy Crudup and Anton Yelchin and Laurence Fishburne. It's a great movie, and I'm really excited about it and I'm so happy to be directed by my husband.
If you had to name your dream leading man in a movie, who would it be?
God, you know what, I've never thought about that. But I could tell you in a skinny instant who my main leading lady would be, and that would be Cate Blanchett. I would do craft service for that lady.
Oh, good one. She could do anything.
Anything.
Would you ever consider a "Desperate Housewives" movie?
Sure. I don't think it'll ever get made, but sure.
And you attend these high-profile events frequently. What's something that you do to unwind and blow off steam when it's all said and done?
Well, I usually take a bath, but I run. I can't say I run in the middle of the night, but I'm a runner.
Click here to find out what other "Trust Me" stars do to unwind.
SUBSCRIBE TO & FOLLOW ENTERTAINMENT
Get top stories and blog posts emailed to me each day. Newsletters may offer personalized content or advertisements. Learn more